Women in Arts: Activism and Censorship
FRIDAY FILE - AWID spoke to Palestinian artist Larissa Sansour about how she addresses political issues in her art, the link between art and activism and why it is important to address censorship head on.
---
States and religious institutions have traditionally had systems that control how written, visual and musical works of art are produced, circulated and used. These interventions continue today and have taken different shapes over time, but the outcome is the same - restrictions on free artistic expression. In recent years, women artists from different regions have been censored after criticizing governments or faith-based laws, or after using art to explore sexuality or lesbian, gay, bisexual, transgender and intersex (LGBTI) rights issues.
The magazine Bad Subjects pointed out in 2005 that, "Female artists who critically explore sex and sexuality have been hard hit by censorship in today's Poland", citing that Dorota Nieznalska was "physically assaulted by far-right militia, persecuted, and prosecuted". More recently, on the musical scene, the most well-known case is that of the Russian feminist punk group Pussy Riot, arrested in 2012 - and two members remain incarcerated - after singing songs challenging the Russian Orthodox Church and Russian President Vladimir Putin in the Moscow's Cathedral of Christ the Savior. Ayat Al-Gormezi, is a 20 year old poet and student that has been subjected to harassment, defamation, intimidation and threats of rape and murder following her sentencing in a military court in Bahrain on the June 12, 2011 to one year in prison for reading out a poem criticizing the country's King. Ayat Al-Gormezi was the first female prisoner of conscience in Bahrain.
Larissa Sansour answered the following questions in an interview with AWID:
---
AWID: What, if any, is the link between art and activism?
Larissa Sansour (LS): I believe that art plays an important role in affecting politics. If art was an autonomous practice you would not see so many examples of assassinations, imprisonment and censorship of artists and cultural workers throughout history. So art is a potent political tool and as such can often play quite a similar role to that of activism. In fact, there is a particular art practice called Artivism. But I personally think that art is most effective in affecting that political or social change, if it plays by its own rules, meaning from within the art practice.
AWID: How are women´s rights issues addressed through art? Why do you think this is important?
LS: I think my work tackles a lot of the issues that relate to the occupation of Palestine by Israel and of course is immersed in the post colonial dialogue, which in effect also addresses the role of women in society. The issue of women's rights is not only necessary to address for its own sake, but also because it opens a magnitude of questions as to how we perceive reality and why it is important to question the very system by which our humanity is constructed and by how we perceive things.
AWID: What are you trying to express through your art? Is it a political reflection on the Palestinian reality?
LS: In my work I try to build surreal and parallel universes based on the present political situation in Palestine to find a new and fresh way of bypassing the current political impasse. There are plenty of documentaries that have been made about Palestine for years now and many news stories, so I think the world has reached a saturation point when it comes to sympathizing with the Palestinian people. I think the world has become immune to hearing news from Palestine for over 60 years and there is a general pessimism when it comes to finding a solution. That's why I think a new approach is needed and I try to do that with my art.
AWID: How has your art contributed to activism/ commentary on women's rights in Palestine?
LS: My work questions value systems and power roles whether they relate to the oppression of a whole nation or women. So, these roles are often flipped and subverted in my work. When these topics are addressed, art inadvertently also enters the realm of activism, as the commentary is there in order to affect change.
AWID: Have you experienced censorship in your work? Can you tell us about the experience and what you learned from it?
LS: I have experienced severe incidents of censorship and unfortunately it is a common thing for Palestinian artists exhibiting in the west. It is a form of silencing and it is often due to pressure by pro Israeli sides.
One of the most recent acts of censorship that I experienced was in 2011. I received a phone call one day, out of the blue, from a Museum to inform me that I had been nominated for the prestigious €25,000 Lacoste Elysée Prize, which is awarded by the Swiss Musée de l'Elysée and Lacoste, the clothing brand. As one of the eight nominees, I was awarded a bursary of €4,000 and given carte blanche to produce a portfolio of images for the final judging. In November 2011, three photos for my "Nation Estate" project (1) were accepted. My name was included on all the literature relating to the prize and on the website as an official nominee. In December 2011, Lacoste demanded that my nomination for the prize be revoked. Somebody high up at Lacoste had told the museum that they wanted my name removed from the list, as my work was "too pro-Palestinian". In an attempt to mask the reasons for my dismissal, I was asked, the day after in a letter, to approve a statement saying that I withdrew my nomination 'in order to pursue other opportunities'. I, of course, refused.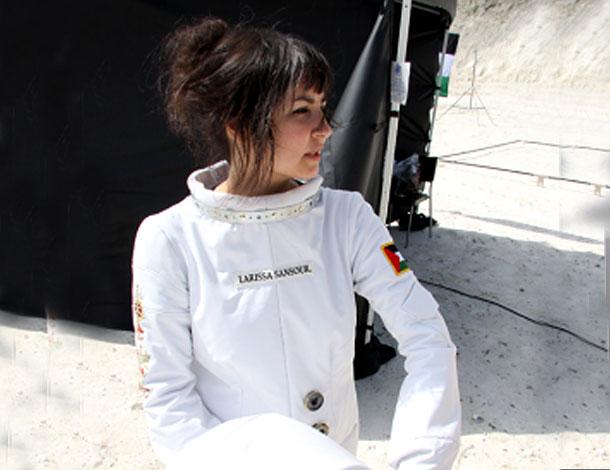 After receiving this letter, I thought that I could not remain silent and that I had to go public with this. I informed the museum that I would go public and they were fully aware of that. But I guess nobody expected that the story would get that much attention. I sent a press release to a couple of journalists that I knew well from my art circle. The art world was outraged to hear about this act of censorship and soon mainstream newspapers worldwide started contacting me. BBC, the Independent, The Guardian, The Washington Post, Le Monde, among others covered the story.
I think the museum gave into the pressure and decided to side with the artist over their big corporate sponsor. I understand that the museum was put in the uncomfortable position of either siding with Lacoste or losing Lacoste's sponsorship of the prize. They finally made the right decision, to say no to censorship of artistic freedom.
It is true that Lacoste's decision generated more publicity that the prize itself could ever have provided. This is, of course, a very fortunate outcome. To see a corporate sponsor's arrogant act exposed in this manner sends a strong signal that such behavior is not tolerated. The public outcry was overwhelming, and I am profoundly grateful to everyone that supported me.
The lesson learned is quite clear. If corporate sponsors want to get involved in the arts, it is imperative that they play by the rules. As a sponsor of the arts, you cannot grant artists a tentative freedom of expression and then retract those privileges if you don't like what you see.
AWID: What do you think are some of the consequences of women´s art being censored?
LS: The consequence of any form of art censorship is that, in many cases, women artists feel powerless against the big players and feel intimidated into silence. After my case with Lacoste, I met so many artists who had experienced some form of censorship and they all felt small and helpless at the time of censorship, so it is important to have an artist's network of support and it is more important that no matter how hard it is, to never let any form of censorship slide by, because the more it is allowed, the more those companies or institutions think that is alright to just dismiss artists and suppress any opinion that they don't agree with.
AWID: How can women artists stand up against censorship?
LS: By speaking out the minute it happens to them. Artists can seek the help of activists, other artists and institutions that deal with censorship and the media, for instance Index on censorship in the UK, Freemuse in Denmark and Frit Ord in Norway. It is so vital that artists make any form of censorship public because defending freedom of artistic expression is the same as defending freedom of speech in general.
In March 2013, Farida Shaheed, Special Rapporteur in the field of cultural rights, released the report The right to freedom of artistic expression and creativity this is extremely important as it gives the problem recognition in legislative terms and puts the right of artistic expression on the same level of freedom of speech in general and therefore recognizes the issue as a basic human right.
---
NOTE:
1) "The Nation Estate is an extensive sci-fi project that includes a short film and a photo series. Set within a grim piece of hi-tech architecture, Nation Estate envisions an ambiguously dystopian Palestinian state rising from the ashes of the peace process. In this vision, Palestinians have their state in the form of a single skyscraper: the Nation Estate. Surrounded by a concrete wall, this colossal high-rise houses the entire Palestinian population – finally living the high life. Each city has its own floor: Jerusalem, third floor; Ramallah, fourth floor. Intercity trips previously marred by checkpoints are now made by elevator to the top floors".