Human Rights Council (HRC)
The Human Rights Council (HRC) is the key intergovernmental body within the United Nations system responsible for the promotion and protection of all human rights around the globe. It holds three regular sessions a year: in March, June and September. The Office of the UN High Commissioner for Human Rights (OHCHR) is the secretariat for the HRC.
The HRC works by:
Debating and passing resolutions on global human rights issues and human rights situations in particular countries

Examining complaints from victims of human rights violations or activist organizations on behalf of victims of human rights violations

Appointing independent experts (known as "Special Procedures") to review human rights violations in specific countries and examine and further global human rights issues

Engaging in discussions with experts and governments on human rights issues

Assessing the human rights records of all UN Member States every four and a half years through the Universal Periodic Review
---
The next 49th session of the HRC is taking place in Geneva, Switzerland, February-March 2022.
AWID works with feminist, progressive and human rights partners to share key knowledge, convene civil society dialogues and events, and influence negotiations and outcomes of the session.
With our partners, our work will:
◾️ Monitor, track and analyze
anti-rights actors, discourses and strategies
and their impact on resolutions
◾️
Raise awareness
of the findings of the 
2017 and 2021 OURs Trends Reports.
◾️ Support the work of feminist UN experts in the face of backlash and pressure
◾️ Co-create the advocacy work of the Feminist Caucus at the HRC and other movement partners.
Related Content
Mina Agarwala
Vivian Stromberg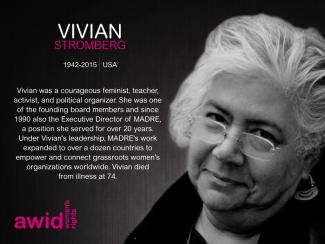 2008: la Conferencia Internacional de Doha se lleva a cabo con resultados limitados
Conferencia Internacional de Seguimiento sobre la Financiación para el Desarrollo, Doha, Qatar
La Conferencia de Doha se propuso examinar la aplicación del Consenso de Monterrey. Retomó las seis áreas de la financiación para el desarrollo, pero los progresos sustantivos alcanzados fueron mínimos.
Si bien el Documento Final de Doha fue más allá que el de Monterrey en cuanto a la igualdad de género, tampoco avanzó lo suficiente. En su declaración, el WWG subrayó que los compromisos de la Declaración de Doha en materia de igualdad de género solo tendrán sentido si se abordan decididamente las cuestiones sistemáticas que subyacen a la pobreza y la distribución desigual de poder y recursos en la economía política global.
Además de la conferencia central, en Doha se desarrolló un foro paralelo de la sociedad civil organizado por el Doha NGO Group for Financing for Development [Grupo de ONG en Doha por la Financiación para el Desarrollo, DNG en inglés] que exigió cambios estructurales en la economía global, así como políticas que dieran prioridad a los derechos de los pueblos, respetaran y promovieran los derechos humanos.
Maria del Rosario Fuentes Rubio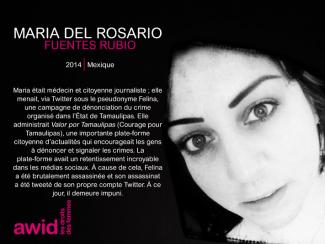 Ana Maria Marcela Yarce Viveros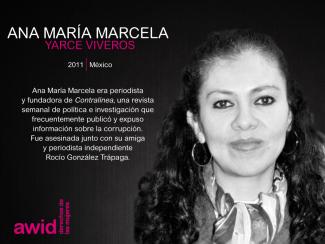 En defensa de los derechos LGBTQI
Estudiantes, escritoras, lideresas, activistas. Cada una de las cuatro mujeres que honramos a continuación encaró el activismo a su manera. Sin embargo, todas tuvieron en común la promoción y defensa de los derechos de  lesbianas, gays, personas bisexuales, trans*, queer e intersex. Únete a nosotras para recordar y honrar a estas defensoras de derechos humanos, su trabajo y su legado, compartiendo los memes aquí incluidos con tus colegas, amistades y redes; y tuiteando las etiquetas #WHRDTribute y #16Días.
---
Por favor, haz click en cada imagen de abajo para ver una versión más grande y para descargar como un archivo.  
2014: lacement du processus préparatoire de la 3ème Conférence sur le FdD
Lancement du processus préparatoire intergouvernemental de la troisième Conférence sur le financement du développement, octobre 2014
Un processus préparatoire, co-facilité par l'ambassadeur guyanais George Wilfred Talbot et l'ambassadeur norvégien Geir O. Pedersen, a été instauré pour mener des discussions préliminaires relatives à la troisième Conférence sur le FdD prévue en juillet 2015 à Addis Abeba, en Éthiopie.
Dans le cadre de ces préparations, deux séries de séances de fond informelles ont été organisées au siège  de l'ONU à New York  afin d'apporter des éléments d'information pouvant servir aux sessions de rédaction du futur document final.
 À cette occasion, le WWG sur le FdD a été réactivé dans le but d'intégrer les perspectives féministes et de défense des droits des femmes aux discussions et délibérations, avant et pendant la troisième Conférence sur le FdD. À l'heure actuelle, le groupe est co-animé par l'AWID, Development Alternatives with Women for a New Era (DAWN) et la Feminist Task Force (FTF).
Le WWG sur le FdD a prononcé deux déclarations  lors de la première série de sessions et présenté un document écrit lors de la seconde. Il a, dans les deux cas, souligné l'invisibilité des inégalités entre les genres dans ce processus préparatoire, tout comme celle de l'inclusion d'autres formes de discrimination et d'inégalité. Le travail du WWG met en lumière les rapports de pouvoir entre les genres et leurs points d'intersection avec d'autres catégories, telles que la race, le handicap, l'appartenance ethnique, l'âge, la richesse et l'identité sexuelle, ce qui accentue la répartition inégale des chances et des ressources dans toutes les sociétés de la planète.
 Les organisations de la société civile se sont dites inquiètes de l'étroitesse de l'espace qui leur a été accordé pour prendre part aux deux sessions de fond informelles. Elles ont notamment évoqué le risque que l'espace de participation de la société civile aux négociations portant sur le document final de janvier 2015 ne soit lui aussi limité.
Roberta Galler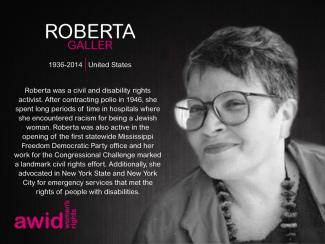 Ummaya Gabbara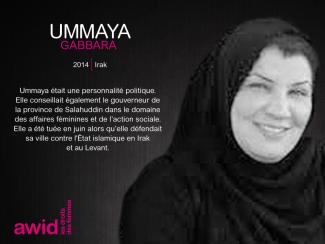 Les droits des personnes trans* doivent être plus fermement protégés
Ces femmes transgenres ont été assassinées en raison de leur activisme et de leur identité de genre. Les lois reconnaissant les droits des personnes trans* sont insuffisantes et, lorsqu'elles existent, les mesures prises pour protéger les droits de ces personnes sont quasi inexistantes. Nous vous invitons à vous joindre à nous pour honorer la mémoire de ces défenseuses, leur activisme et l'héritage qu'elles nous ont laissé. Faites circuler ces mèmes auprès de vos collègues et amis ainsi que dans vos réseaux et twittez en utilisant les hashtags #WHRDTribute et #16Jours.
---
S'il vous plaît cliquez sur chaque image ci-dessous pour voir une version plus grande et pour télécharger comme un fichier