Human Rights Council (HRC)
The Human Rights Council (HRC) is the key intergovernmental body within the United Nations system responsible for the promotion and protection of all human rights around the globe. It holds three regular sessions a year: in March, June and September. The Office of the UN High Commissioner for Human Rights (OHCHR) is the secretariat for the HRC.
The HRC works by:
Debating and passing resolutions on global human rights issues and human rights situations in particular countries

Examining complaints from victims of human rights violations or activist organizations on behalf of victims of human rights violations

Appointing independent experts (known as "Special Procedures") to review human rights violations in specific countries and examine and further global human rights issues

Engaging in discussions with experts and governments on human rights issues

Assessing the human rights records of all UN Member States every four and a half years through the Universal Periodic Review
---
The next 49th session of the HRC is taking place in Geneva, Switzerland, February-March 2022.
AWID works with feminist, progressive and human rights partners to share key knowledge, convene civil society dialogues and events, and influence negotiations and outcomes of the session.
With our partners, our work will:
◾️ Monitor, track and analyze
anti-rights actors, discourses and strategies
and their impact on resolutions
◾️
Raise awareness
of the findings of the 
2017 and 2021 OURs Trends Reports.
◾️ Support the work of feminist UN experts in the face of backlash and pressure
◾️ Co-create the advocacy work of the Feminist Caucus at the HRC and other movement partners.
Related Content
2009: la ONU celebra una Conferencia sobre el impacto de la crisis económica
Conferencia de la ONU sobre la crisis financiera y económica mundial y sus efectos sobre el desarrollo
Esta conferencia de 2009 fue un producto de la Conferencia de Doha realizada en 2008. La Declaración de Doha le había encargado a la ONU que el Presidente de su Asamblea General organizara una conferencia sobre la crisis financiera y económica mundial y su impacto sobre el desarrollo.
En esta conferencia los grupos de mujeres, a través del WWG, destacaron el impacto de la crisis financiera mundial sobre los grupos en situación de vulnerabilidad. En su declaración ante los Estados Miembros, el WWG les propuso acciones que consideraba necesarias para remediar los efectos de la crisis sobre las mujeres. También observó que otros grupos sociales afectados por la crisis son clave para una respuesta que esté en consonancia con los estándares y compromisos internacionales en materia de igualdad de género, derechos de las mujeres, derechos humanos y empoderamiento.
Nadine Shams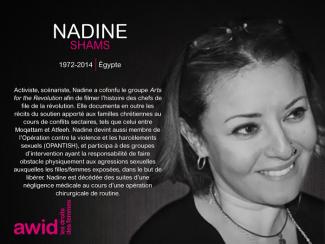 Tenderness is the Sharpest Resistance
A Film Series on Asian/Pacific Feminist Realities 
Curated by Jess X. Snow With assistance from Kamee Abrahamian and Zoraida Ingles 
Across Asia and the Pacific, and all of it's vast diaspora, fierce women and trans folks have been fighting for a future where they can all be free. As rising sea levels threaten the Pacific islands, and the coasts of continental Asia, the fight to protect other Earth and the Ocean intensifies all over the globe. Our planet stores a geologic memory of everything that it has experienced. The rise of colonization, industrialization, and environmental destruction is connected to the rise of the binary patriarchal nation state. The power within the Earth, to reincarnate, heal, and bloom in the face of violence, must then be connected to the woman, to motherhood, to indigeneity and all forces that are expansive, sacred and queer. It is no coincidence that Feminist Realities unite the fight to protect the rights of women, trans and LGBTQ+ people with the fight to protect the Earth. From mother-daughter protectors of Mauna Kea in the Kingdom of Hawaii, to the complex mother-child relationships of Vietnamese refugees, to queer sexual awakenings in conservative India, the reclaimation of home in Inner Mongolia, to the struggle toward LGBTQ liberation in the Phillipines -- this collection of films is a cosmology of the ways current-day Asian Pacific women and queer and trans folks champion the journey to our collective liberation across oceans and borders. 
All of these films have a strong sense of place: indigenous activists protect their sacred lands, youth peel back colonial narratives of their homeland to uncover hidden truths, complex motherhood and relations of care are explored, and characters turn to their own bodies and sexuality as sanctuary when the family and city that surrounds them threaten their safety. 
---
AFTEREARTH
By Jess X. Snow
"A haunting film with stunning shots invoking feminist environmental resistance and how deeply rooted this is in connection to cultural history and land…"
    - Jessica Horn, PanAfrican feminst strategist, writer and co-creator of the temple of her skin
In the experimental documentary, Afterearth, four women fight to preserve the volcano, ocean, land and air for future generations. Through music, poetry, and heartfelt testimonial that honors locations touched by the Pacific Ocean–Hawaiʻi, the Philippines, China, and North America, Afterearth is a poetic meditation on four women's intergenerational and feminist relationship to the lands and plants they come from.
---
STANDING ABOVE THE CLOUDS
By Jalena Keane Lee
In Standing Above the Clouds, Native Hawaiian mother-daughter activists stand together to protect their sacred mountain, Mauna Kea from being used as a site to build one of the world's largest telescopes. As protectors of Mauna Kea, this film highlights the interconnected relationship between Aloha ʻĀina (love of the land) and love for one's elders and the future generations to come.
---
NƯỚC (WATER/HOMELAND)
By Quyên Nguyen-Le
In the experimental narrative short, Nước (Water/Homeland) a Vietnamese-American genderqueer teen challenges dominant narratives of the Vietnam War in Los Angeles, California. Through striking dream sequences and breaks from reality, this film follows their journey to piece together and understand their mother's experience as a Vietnam War refugee. 
---
KAMA'ĀINA
By Kimi Lee
In Kama'āina, a queer sixteen-year-old girl must navigate life on the streets in Oahu, until she eventually finds refuge by  way of guidance from an auntie at Pu'uhonua o Wai'anae–Hawaiʻi's largest organized homeless encampment. 
---
DEVI
By Karishma Dev Dube
In Devi (goddess in Hindi) a young closeted lesbian, Tara risks both family and tradition to embrace her attraction to her family's maid. Set in New Delhi, Devi is a coming of age story, as it is a commentary on the social and class lines that divide women in contemporary India today.
---
HEADING SOUTH
By Yuan Yuan
In Heading South, Chasuna, an 8 year old girl, raised by her mother in the Inner Mongolian Plateau, visits her abusive father in the big city. While at her father's house, she is introduced to a new addition to the family, and must come to terms with the fact that her true home is inseparable from her mother and land.
---
Outrun
By Johnny Symons & S. Leo Chiang
In the feature film, Outrun, we follow the journey of the first transgender woman in the Philippine Congress. Facing oppression in a predominantly Catholic nation, her triumphant journey becomes an outcry for the rights of LGBTQ+ people globally. 

Spanning documentary, narrative, and experimental forms, these films illustrate that community care, self-love, and deep transformative listening between our loved ones is a portal to the Feminist Realities we are bringing into existence today.  From all across the Asia Pacific and it's diaspora, these stories teach us that in the face of violence, tenderness is the sharpest force of resistance.
Watch our conversation with the filmmakers
---
Jess X Snow:
Jess X. Snow is a film director, artist, pushcart-nominated poet, children's book author and community arts educator who creates queer asian immigrant stories that transcend borders, binaries and time. 
---
Follow us on Social Media to receive news about upcoming events and screenings:
Facebook: @AWIDWomensRights
Instagram: @awidwomensrights
Twitter ENG: @awid
Twitter ES: @awid_es
Twitter FR: @awid_fr
LinkedIn: Association for Women's Rights in Development (AWID)
Janvier 2015: 1ère session de rédaction du document final de la 3ème Conférence sur le FdD
La première session de rédaction du document final de la troisième Conférence sur le financement du développement
À partir de janvier 2015, les sessions de rédaction du document final se sont succédé au siège de l'ONU à New York.
Avant la première de ces sessions, les co-facilitateurs du processus préparatoire de la Conférence d'Addis Abeba ont présenté un document récapitulatif (en anglais) en vue de la rédaction de la dite « version zéro » du document final. Ce document avait vocation à servir de base aux négociations intergouvernementales relatives au contenu du document final.
Pendant les sessions, des organisations de défense des droits des femmes ont mis l'accent sur la nécessité, au cours des processus relatifs à l'après-2015, d'aborder séparément le FdD et les modalités de mise en œuvre. À leurs yeux, le FdD offre une occasion unique aux États de s'attaquer aux causes structurelles des inégalités.  
Vina Mazumdar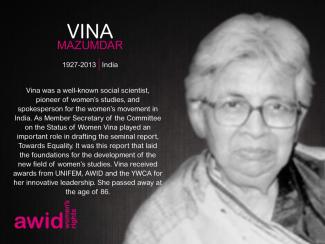 Asma Jahangir
Asma était une militante pakistanaise des droits humains, une critique courageuse de l'ingérence de l'armée dans la politique et une défenseure acharnée de la primauté du droit.
Elle a été la présidente fondatrice de la Commission des droits de l'homme du Pakistan, un groupe indépendant ainsi qu'administratrice de l'International Crisis Group. Elle a remporté des prix internationaux et a été rapporteuse des Nations Unies sur les droits de l'homme et les exécutions extrajudiciaires.
Ses collègues et ami-e-s de l'AWID se souviennent d'elle avec affection
« Grâce à sa vie, Asma a réécrit l'histoire que beaucoup d'entre nous ont racontée en tant que femmes. Asma a changé le monde. Elle l'a changé au Pakistan et elle l'a changé dans notre imaginaire. »
---