Advancing Universal Rights and Justice
Uprooting Fascisms and Fundamentalisms
Across the globe, feminist, women's rights and gender justice defenders are challenging the agendas of fascist and fundamentalist actors. These oppressive forces target women, persons who are non-conforming in their gender identity, expression and/or sexual orientation, and other oppressed communities.
---
Discriminatory ideologies are undermining and co-opting our human rights systems and standards,  with the aim of making rights the preserve of only certain groups. In the face of this, the Advancing Universal Rights and Justice (AURJ) initiative promotes the universality of rights - the foundational principle that human rights belong to everyone, no matter who they are, without exception.
We create space for feminist, women's rights and gender justice movements and allies to recognize, strategize and take collective action to counter the influence and impact of anti-rights actors. We also seek to advance women's rights and feminist frameworks, norms and proposals, and to protect and promote the universality of rights.
---
Our actions
Through this initiative, we:
Build knowledge: We support feminist, women's rights and gender justice movements by disseminating and popularizing knowledge and key messages about anti-rights actors, their strategies, and impact in the international human rights systems through AWID's leadership role in the collaborative platform, the Observatory on the Universality of Rights (OURs)*.
Advance feminist agendas: We ally ourselves with partners in international human rights spaces including, the Human Rights Council, the Commission on Population and Development, the Commission on the Status of Women and the UN General Assembly.
Create and amplify alternatives: We engage with our members to ensure that international commitments, resolutions and norms reflect and are fed back into organizing in other spaces locally, nationally and regionally.
Mobilize solidarity action: We take action alongside women human rights defenders (WHRDs) including trans and intersex defenders and young feminists, working to challenge fundamentalisms and fascisms and call attention to situations of risk.  
Related Content
Camille Lepage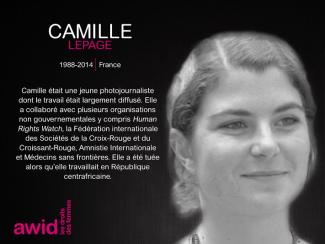 Fadila M.
Cause of death / disappearance
Fadila M. was a Soulaliyate tribal activist from Azrou, the Ifrane region of Morocco. She fought against a specific form of land discrimination directed against tribal women.
As part of the Soulaliyate Women's Land-Use Rights Movement, she worked towards overhauling the framework legislation relating to the management of community property through the 2019 adoption of three projects of laws guaranteeing the equality of women and men.
According to the customary laws in force, women had no right to benefit from the land, especially those who were single, widowed or divorced. The rights to collective land in Morocco were transmitted traditionally between male members of a family of over 16 years of age. Since 2007, Fadila M. had been part of the women's movement, the first grassroots nationwide mobilization for land rights. Some of the achievements included that in 2012 for the first time Soulaliyate women were able to register on the lists of beneficiaries and to benefit from compensation relating to land cession. The movement also managed to get the 1919 dahir (Moroccan King's decree) amended to guarantee women the right to equality.
Fadila M. died on 27 September 2018. The circumstances of her death are unclear. She was part of a protest march connected to the issue of collective land and while authorities reported her death as being accidental, and her having a cardiac arrest on the way to the hospital, the local section of the Moroccan Association of Human Rights (AMDH) pointed out that Fadila was suffocated by a member of the police force using a Moroccan flag. Her family requested investigation but the results of the autopsy were not known.
Find out more about the Soulaliyate Women's Land-Use Rights Movement
---
Please note: As there was no photograph/image of Fadila M. available to us, the artwork (instead of a portrait) aims to represent what she fought and worked for; land and rights to live and have access to that land and what grows on it.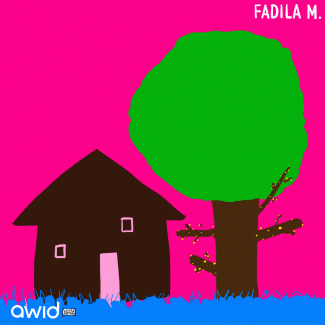 Sabi Beriani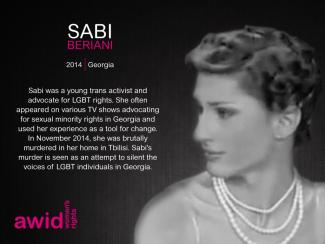 Rosa Candida Mayorga Muñoz
Cause of death / disappearance
Rosa Cándida Mayorga Muñoz fue una trabajadora social guatemalteca, líder sindical y defensora de los derechos laborales. La llamaban cariñosamente «Rosita».
En la década de 1980, Rosa se convirtió en la primera mujer integrante del Comité Ejecutivo del Sindicato de Trabajadores del Instituto Nacional de Electrificación (STINDE), un sindicato al que se había incorporado originalmente para defender los derechos laborales de las mujeres. Para ella, esto significaba luchar por la igualdad de oportunidades en una empresa en la que muchas mujeres enfrentaban un sistema discriminatorio y violento creado por las autoridades de la compañía. Rosa también había sufrido acoso sexual en su lugar de trabajo, tanto por parte de sus compañeros de trabajo, como de los funcionarios. Sin embargo, no era alguien a quien se pudiera acallar.
Rosa continuó con su pelea y fue parte del esfuerzo por configurar la lucha en una forma más específica, la del «Pacto colectivo de condiciones de trabajo INDE -STINDE». Este pacto fue pionero: el primero en tipificar el concepto de acoso (sexual) en Guatemala. Sirve como referencia para la legislación guatemalteca en temas laborales, y es un estímulo para otros sindicatos.
«No tenía herramientas de lucha más que sus propios ideales... Muchas veces fue intimidada, hostigada para dejar por un lado la lucha, pero su valentía a enfrentar generaba la imagen de la esperanza para los sindicalistas de bases. Rosita se trazó una imagen de respeto, no solo dentro de su sindicato, sino ante las autoridades de la institución, ante el movimiento de mujeres; fue reconocida, como pionera, del movimiento de mujeres sindicalistas, en un espacio que había sido más desarrollado por hombres.» - Maritza Velasquez, ATRAHDOM
Rosa falleció el 4 de abril de 2018, a la edad de 77 años.