Advancing Universal Rights and Justice
Uprooting Fascisms and Fundamentalisms
Across the globe, feminist, women's rights and gender justice defenders are challenging the agendas of fascist and fundamentalist actors. These oppressive forces target women, persons who are non-conforming in their gender identity, expression and/or sexual orientation, and other oppressed communities.
---
Discriminatory ideologies are undermining and co-opting our human rights systems and standards,  with the aim of making rights the preserve of only certain groups. In the face of this, the Advancing Universal Rights and Justice (AURJ) initiative promotes the universality of rights - the foundational principle that human rights belong to everyone, no matter who they are, without exception.
We create space for feminist, women's rights and gender justice movements and allies to recognize, strategize and take collective action to counter the influence and impact of anti-rights actors. We also seek to advance women's rights and feminist frameworks, norms and proposals, and to protect and promote the universality of rights.
---
Our actions
Through this initiative, we:
Build knowledge: We support feminist, women's rights and gender justice movements by disseminating and popularizing knowledge and key messages about anti-rights actors, their strategies, and impact in the international human rights systems through AWID's leadership role in the collaborative platform, the Observatory on the Universality of Rights (OURs)*.
Advance feminist agendas: We ally ourselves with partners in international human rights spaces including, the Human Rights Council, the Commission on Population and Development, the Commission on the Status of Women and the UN General Assembly.
Create and amplify alternatives: We engage with our members to ensure that international commitments, resolutions and norms reflect and are fed back into organizing in other spaces locally, nationally and regionally.
Mobilize solidarity action: We take action alongside women human rights defenders (WHRDs) including trans and intersex defenders and young feminists, working to challenge fundamentalisms and fascisms and call attention to situations of risk.  
Related Content
English article
English article created from Spanish site
Snippet FEA Nadia Echazu (EN)
The Nadia Echazú Textile Cooperative carries the name of a pioneer in the struggle for trans rights in Argentina. In many ways, the work of the cooperative celebrates her life and legacy.
Nadia Echazú had a remarkable activist trajectory: she was one of the co-founders of "El Teje", the first trans newspaper in Latin America, alongside Lohana Berkins, Diana Sacayán and Marlene Wayar. Nadia was part of the Argentinian Association of Travestis, Transexual and Transgender people (Asociación de Travestis y Transexuales de Argentina, ATTA) and founded The Organization of Travestis and Transgender People of Argentina (Organización de Travestis y Transexuales de Argentina, OTTRA).
Shortly after her death, her fellow activists founded the cooperative in her name, to honor the deep mark she left on trans and travesti activism in Argentina.
2. Frame your research
A framework for your research will guide throughout your research process, and the framing document you develop can also serve as a concept note to advisors and partners, and a funding proposal to potential donors.
Before conducting any research:
Your research framing may evolve over time as you refine your questions and gather new information. However, building an initial research framing will allow you to work from a solid foundation.
---
Goals
To create a strong foundation for your WITM research, it is important to clarify what you hope to accomplish.
For example, one goal of AWID's WITM global research was to provide rigorous data to prove what we already knew anecdotally: that women's rights organizations are discrepantly underfunded. With this data, we felt we would be better positioned to influence funders in their decision-making.
Your goals could be to:
Generate hard data on funding realities and trends to prove or disprove existing myths.
Gain deeper insight into differences between the perspectives of donors and women's rights organizations.
Influence donors in grant-making.
Add crucial input to key funding debates.
Explore collaboration between donors and women's rights organizations on issues that emerge from the research.
---
Key questions
Frame your research process with key questions that only your research can answer and limit those questions to a specific time frame (e.g. past five years, past year, etc.).
Consider the following points:
What exactly do you want to learn more about and what is the hypothesis you would like to test? Writing this out will assist you in your thought process.
Is there existing research on this? If research already exists, it may not make sense to conduct new WITM research unless you feel like the existing research is not extensive or specific enough.  
What time frame do you want to cover in your analysis? For example, will your research analyze only the past year, or several previous years, such as the past five years?
Are you planning to repeat your survey to collect data in the future?
Choosing a specific timeframe for your research can result in more precise findings than working with an open-ended timeframe. Also, deciding whether you will repeat this research at regular intervals will allow you to set up data collection benchmarks for easy replication and comparison over time.
These were the key questions that guided AWID's WITM research process:
What is the current state of women's organizations' financial sustainability across the world?
What external and internal trends are impacting donors' funding decisions to support women's organizations and movements?
---
Type of data
Now that you determined your key questions, you can determine what kind of data will help you answer your key questions. This will allow you to plan the rest of your schedule for your WITM research.
For example, will you conduct a survey that covers an extensive portion of your priority population? Will you analyze the applications that funders are receiving from a certain region? Will you also conduct interviews (recommended)? By determining the types of data you need, you can reach out to external parties who will provide this data early on, and plot out your full schedule accordingly. Some suggested sources of data could be:
Surveys you create for women's rights organizations and donors
Application and grantmaking data from donors funding cycles
Interviews of prominent activists, organizations, and donors
Donor data from membership organizations and networks, such as  the Foundation Center, regional or national donor affinity groups.
Diverse data sets are a great way to create robust and rich analysis.
The data from AWID's 2011 Global Survey formed the backbone of our analysis in Watering the Leaves, Starving the Roots report. However, we also collected data from interviews and interactions with several actors in the field, ranging from donors to activists and women's rights organizations.
---
Final products
In addition to allowing you to set your schedule, creating an initial plan of what products you will develop will also allow you to work out what resources you need.
For example, will you only produce a long research report or will you also create infographics, brochures and presentations? Depending on your products, you may need to hire a design firm, plan events and so on.
These products will also be the tools you use to achieve your goals, so it is important to keep those goals in mind. For example, is your WITM research exclusively intended as an advocacy tool to influence funders? In that case, your products should allow you to engage with funders at a deep level.
 Some sample products:
Long report for dissemination with key funders and organizations.
Historically, AWID WITM research has centered on a long report, from which AWID distilled other smaller products  - see rest of list.
Infographic for viral distribution online
Short animation demonstrating key findings
Short brochure(s) distilling your findings and messages
Articles and blog posts on key findings to draw interest to your larger report
Seminars or webinars presenting key findings.
---
Conclusion: Framing your research will give you the big picture
Framing your research to cover goals, key questions, types of data, and final products will allow you to create a well-planned schedule, prepare your resources in advance, and plan a realistic budget.
This will make interactions with external partners easier and allow you to be nimble when unexpected setbacks occur.
---
Previous step
Next step
---
Estimated time:
• 1 month
People needed:
• 1 or more Research person(s)
Resources available:
• AWID Research Framing: sample 1
• AWID Research Framing: sample 2
---
Previous step
Next step
---
Snippet FEA Workers demonstrations in Georgia 2 (EN)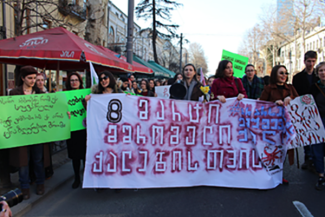 Agroecology and Food Sovereignty
Context
The search for alternative means of food production based on environmental sustainability is gaining ground across regions. This worldwide search comes with a common characteristic: the need to involve rural people and particularly women, building on their local priorities and knowledge by employing the principle of agroecology.
Definition
Agroecology is a way of practicing agriculture or using technologies that do not harm the environment. It proposes breaking with the hegemonic rural development model based on large landed estates and single-crop plantations that benefit mostly agricultural businesses and entrenches social exclusion.   
In family farming, agroecology manifests as a resistance to the current development model and its social, cultural, environmental, and economic problems. It opposes the lack of the farmer's financial capital autonomy; and it symbolizes a resistance to the current agribusiness model.
Feminist perspective
Efforts based solely on agroecology may not be sufficient to solve all problems of women's marginalization and invisibility. A feminist perspective is then crucial to analyze the norms associated with the idea of family as currently constituted as the perfect institution, as well as with the condition of women's subordination.
In simpler terms, it is important to include in this debate a reflection on socially constructed gender roles to advance the emancipatory potential of agroecology.
---
Learn more about this proposition