Resourcing Feminist Movements
Around the world, feminist, women's rights, and allied movements are confronting power and reimagining a politics of liberation. The contributions that fuel this work come in many forms, from financial and political resources to daily acts of resistance and survival.
---
AWID's Resourcing Feminist Movements (RFM) Initiative shines a light on the current funding ecosystem, which range from self-generated models of resourcing to more formal funding streams.
Through our research and analysis, we examine how funding practices can better serve our movements. We critically explore the contradictions in "funding" social transformation, especially in the face of increasing political repression, anti-rights agendas, and rising corporate power. Above all, we build collective strategies that support thriving, robust, and resilient movements.
---
Our Actions
Recognizing the richness of our movements and responding to the current moment, we:
Create and amplify alternatives: We amplify funding practices that center activists' own priorities and engage a diverse range of funders and activists in crafting new, dynamic models  for resourcing feminist movements, particularly in the context of closing civil society space.

Build knowledge: We explore, exchange, and strengthen knowledge about how movements are attracting, organizing, and using the resources they need to accomplish meaningful change.

Advocate: We work in partnerships, such as the Count Me In! Consortium, to influence funding agendas and open space for feminist movements to be in direct dialogue to shift power and money.
Related Content
Paola Barraza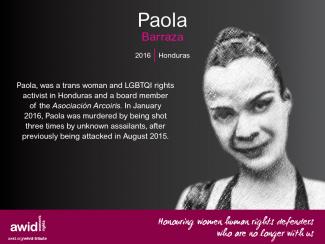 TEST - MAP
WHRD Tribute - 2017
We can have an intro here
And maybe a little bit more text here
Meztli Omixochitl Sarabia Reyna
Cause of death / disappearance

Killed/Asesinada/Assassinée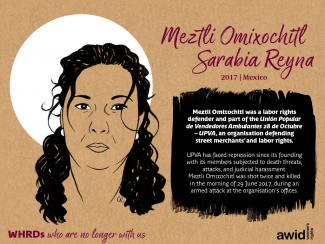 Funding Ideas
This page provides ideas and inspiration for how you can fund your participation at the 14th AWID International Forum. 
As you plan the activity you would like to do at the Forum, please also consider how you will fund your participation. Typical Costs include: accommodation, travel, visa, forum registration fees, etc.
It is important to note that this Forum will have many 'open spaces' and moments for movements to learn and exchange, but fewer formal sessions. (See "Ways to describe the Forum in your fundraising" below for language to use in your outreach.) 
Work with your current funders:
Reach out to your current donors first : Your best option is always a current funder that you have.
Make sure to do it in advance : We recommend contacting them by early 2020 at the latest. Many funders who support feminist organizations have some budget allocated for Forum travel. Others may be able to include it in renewal grants or through other travel funds.
If your group has funders, tell them that you want to attend the AWID Forum to learn, experience, exchange and network- even if your activity does not get selected for the final program. In order to be able to support your participation, your donors will need to know about it well in advance so tell them right away! (they are already deciding which funds they will distribute in 2020).
Seeking new funders:
If you do not currently have donor support or are not able to secure grants for Forum travel, consider reaching out to new donors. 
Deadlines and requirements vary by funder, and a  grant review process can take many months. If you're considering applying for new grants, do so as soon as possible.
Creative inspiration:
Feminist movements have long gotten creative with funding our own activism. Here are some ideas that we have gathered to inspire alternative ways of fundraising:
Mobilize your community to support participation: fundraise with small contributions from members through community dinners, dance parties, and local shows, events and tours
Mobilize your networks by organizing giving circles and crowdsourcing using various online tools like gofundme, indiegogo, plumfund, or kickstarter
Cultivate local sources of income, including from individual donors and membership dues    
Consider co-funding through strategic partnerships with other community and social justice groups.
For more inspiration, see AWID's ongoing series on autonomous resourcing, including specific ideas for conference raising participation funds. 
Access Fund:
AWID strives to make the Forum a truly global gathering with participation from diverse movements, regions and generations. To this end, AWID mobilizes resources for a limited Access Fund (AF) to assist Forum participants with the costs of attending the Forum.
AWID's Access Fund will provide support to a limited number of Forum participants and session/activity facilitators. You can indicate in your application if you would like to apply to the AWID Access Fund. This is not guaranteed, and we strongly encourage you to seek alternative funding for your participation and travel to the Forum.
Even if you apply for the AWID Access Fund, we encourage you to continue to explore other options to fund your participation in the Forum.  Access Fund decisions will be confirmed by the end of June 2020. Please remember that these resources are very limited, and we will be unable to support all applicants. 
---
Ways to describe the Forum in your fundraising: 
As you reach out to funders or your own networks, here is some sample messaging that may be helpful. Feel free to adapt it in whatever way is useful for you!
The AWID Forum is a co-created feminist movement space that energizes participants in their own activism, and strengthens connections with others across multiple rights and justice movements. Participants get to draw from wells of hope, energy and radical imagination, as well as deepen shared analysis, learning, and build cross-movement solidarity to develop more integrated agendas and advance joint strategies.

Our organization is seeking funds to attend the Forum in order to connect with other activists and movements from around the world, strengthen our strategies, and share our work. We are inspired by past participants, who have described the power of this global feminist gathering:

"Over four days … voices weaved together into a global perspective on the state of gender equality. And when I say global, I mean simultaneous translation into seven languages kind of global  ...."

"It was reminding us that we are not alone. The Forum provided a means of translating collectivity into our movements. Whether across ideologies, identities or borders, our strength is in our vision and our support of one another."

It is important to note that this Forum will have many 'open spaces' and moments for movements to learn and exchange, but fewer formal sessions. While many attendees will not be presenting in formal sessions, there will be invaluable space to learn, strategize, and experience feminist movements' collective power in action.
Budget considerations: 
When calculating your costs and how much you need to raise, it is important to factor in costs that may come up. Here's an example of key items to consider:
Airfare
Forum registration fees (please note that even if you are granted Access Funds by AWID, you will have to cover your registration fee yourself)
Visa costs
Travel health insurance
Local travel to and from the airport (taxis or other transportation)
Layover costs, such as hotels and meals if your plane travel requires a long layover
Accommodation, including giving yourself a day to recover on either end if you have traveled far
Technology, including WiFi access or fees for international communication as needed during travel (AWID will provide WiFi during the Forum)
Materials costs for any items (visuals, reports, artwork!) you want to bring, share, or exchange at the Forum 
Incidentals and/or per diems to cover food and other items that come up (all lunches and coffee/tea breaks, plus one dinner will be provided by AWID during Forum days) 
Accessibility, such as any additional support that may be important to make your travel more comfortable, safe, and secure
We look forward to seeing you at the Forum!
---
The Forum is a collaborative process
The AWID Forum will now take place 11-14 January 2021 in Taipei .
It is more than a four-day convening. It is one more stop on a movement strengthening journey around Feminist Realities that has already begun and will continue well beyond the Forum dates.
Terezinha Nunes Meciano
Cause of death / disappearance

Killed / Asesinada / Assassinée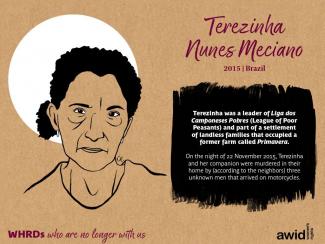 Our neighbourhood, our network, our strength
by Marta Plaza Fernández, Madrid, Spain (@gacela1980)
The feminist reality that I want to share is about weaving networks in which we uphold one another. Networks which come together in different ways, which emerge from our shared vulnerability, and which make all of us stronger.
The streets of Chamberí, my neighbourhood in Madrid, became much more of a home following the gatherings in the plazas organized by the citizens movement that originated in a rally on May 15, 2011. I think about how, during those years, we met each other and were able to associate faces, voices, smiles with so many neighbours who previously were only silhouettes without names or pasts, and who we passed by without seeing or hearing each other. I think about how we've become involved and dedicated; how we've woven a palpable, tangible community; how we've been advancing hand in hand towards building a new more inhabitable world, which we want and that we urgently need to create.
A group of activists and utopian neighbours, (in the best sense of the word utopian) – that moves us to action to do something real – that group for me was practically the first that reacted differently when I shared a part of my history and identity with them. With these women I shared my psychiatric diagnosis, my multiple hospital stays, the number of daily pills that accompanied me, my disability certificate, my difficulty in preserving that vital link that periodically disintegrates in my hands.
These neighbours, friends, comrades, links, loves –did not only not distance themselves from me once they got to know someone who many others had labelled as problematic, manipulator, egotistical – but became my principal network of affection and mutual support. They decided to navigate with me when the sea became agitated with storms. These people have given a different meaning to my days.
Building our feminist reality also encompasses carrying the "I believe you, sister" that we use when a friend has suffered a macho attack to the violence experienced by psychiatrized women at the hands of the very psychiatric system and institutions that are supposed to help us (and instead are often the new abuser who traumatizes and hurts us all over again). And this reality must include respect for our decisions, without taking away our agency and capacity to direct our own steps to one space or another; to listen to our narratives, desires, needs…without trying to impose others that are alien to us. It means not delegitimizing our discourse, not alluding to the label of our diagnosis, nor our madness.
With these transformation, each stay in the psychiatric institute did erase the ties that we had been able to build, but instead this network stayed by my side, its members took turns so that each day there would be no lull in calls, in visits, so that I could feel them as close as one can feel another person separated by locked doors (but unfortunately open for abuse) within the confines of the psychiatric ward. Through the warmth and kindness from my people I could rebuild that vital link that had once again been broken.
The even bigger leap happened when I was already aware of the numerous violent acts and abuse (where among other assaults, I spent days strapped to a bed, relieving myself where I lay),  I decided that I would not go back to being interned.
This network of care, these women neighbours-friends-loves-comrades, they respected my refusal to return to the hospital and supported me through each crisis I've been through since then. Without being interned, without violence.
They took turns accompanying me when my link to life was so broken that I felt such a huge risk which I couldn't handle on my own. They organized WhatsApp group check-ins. They coordinated care and responsibilities so that no one would feel overwhelmed - because when an individual feels overloaded, they make decisions based on fear and the need for control instead of prioritizing accompaniment and care.
That first crisis that we were able to surmount together in this way – without being admitted to the psychiatric institute, represented a dramatic change in my life. There were months when my life was at risk, of intense suffering and of so much fear for my people and for me. But we overcame it together, and all that I thought was that if we could get over that crisis, then we could also find ways to face all the difficulties and crises that may come.
These feminist realities that we're building day by day keep expanding, growing and taking different forms. We're learning together, we're growing together. Distancing ourselves from a welfare mentality, one of the first lessons was that, in reality, there wouldn't be anyone receiving care (because of a psychiatric label) or anyone helping, from the other side of the sanity/insanity line. We learnt – we're learning – to move to a different key – that of mutual support, of providing care and being cared for, of caring for each other.
We've also explored the limits of self care and the strength of collectivizing care and redistributing it so it's not a burden that paralyzes us; we learnt – and we keep learning today – about joy and enjoying care that is chosen.
Another recent learning is about how difficult it was to start integrating money as another component of mutual support that we all give and receive. It was hard for us to realize how internalized capitalism kept on reverberating in our relationship with money, and that even though no one expected any payment for the containers of lentils we cooked amongst us when eating and cooking were difficult tasks, our expectation regarding money was different. Phrases like "how much you have is how much you're worth" become stuck inside of us without critically analyzing them. It's easy to keep thinking that the money each one has is related to the effort made to earn it, and not due to other social conditioning distant from personal merit. In fact, within this well-established mutual support network – redistributing money based on needs without questioning – was still a remote reality for our day to day. That's why this is something that we've recently started to work on and think through as a group.
We want to get closer to that anti-capitalist world where mutual support is the way that we have chosen to be in the world; and that entails deconstructing our personal and collective relationship with money and internalized capitalism.
In these feminist realities we also know that learning never stops, and that the road continues to be shaped as we travel upon it. There is still much to do to keep caring for ourselves, to keep expanding perspectives and to make ourselves more aware of the persistent power imbalances, of privileges that we hold and continue to exercise, without realizing the violence that they reproduce.
Though we've already travelled so far, we still have a long way to go to get closer to that new world that we hold in our hearts (and for some within our crazy little heads too). Racism, classism, adult-centrism, fat-phobia, and machismo that persists among our partners.
Among the pending lessons, we've needed for a long time already to build a liveable future in which feminism is really intersectional and in which we all have space, in which the realities and oppressions of other sisters are just as important as our own. We also need to move forward horizontally when we build collectively – getting rid of egos, of protagonisms, to live together and deal with the need for recognition in a different way. And to also keep making strides grounded in the awareness that the personal is always, always political.
How we relate to and link with each other cannot be relegated to the private domain, nor kept silent: other loves are possible, other connections and other families are necessary, and we are also inventing them as we go.
This new world which we want to create, and that we need to believe in – is this kind world – in which we can love, and feel pride in ourselves – and in which all worlds will fit. We'll keep at it.
---
"Healing Together"
by Upasana Agarwal, Kolkata, India (@upasana_a)
Looking at activists and feminists as healers and nourishers of the world, in the midst of battling growing right wing presence, white supremacy and climate change. This piece highlights how our feminist reality puts kindness, solidarity, and empathy into action by showing up and challenging the status quo to liberate us all. 
Betty Tebbs
Cause of death / disappearance

Natural / Muerte natural / Mort naturelle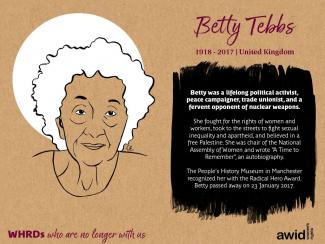 Understanding the Context of Anti-Rights Threats
Chapter 2
While fundamentalisms, fascisms and other systems of oppression shapeshift and find new tactics and strategies to consolidate power and influence, feminist movements continue to persevere and celebrate gains nationally and The rising power of anti-rights actors is not happening in a vacuum. Understanding the rise of ultra-nationalism, unchecked corporate power, growing repression, and diminishing civic space is key to contextualize the anti-rights threats we face today.
Today, considerably more than half of the world's population is governed by far-right leaders.  Against this backdrop, human rights defenders and feminists are working hard to "hold the line" and protect multilateralism and the international human rights system. They also face the risk that their engagement may bring with it violent reprisals. At the same time, these institutions are increasingly subject to private sector interests. Large businesses, particularly transnational corporations, are occupying seats at the negotiating table and leadership positions in a number of multilateral institutions, including the UN. This nexus of ultra-nationalism, closing civic space, and corporate capture is having a tremendous impact on whether human rights for all can ever be achieved. 
Table of Contents
Nationalism and Ultra-nationalism
Corporate Capture: Untamed Corporate Power is Putting Rights at Risk
Reprisals and Closing Civic Spaces for Feminist Activists, and LGBTIQ+ and Women Human Rights Defenders
Movement Resistance Story: CEDAW's Article 16: A Pathway for Reformation of Discriminatory Family Laws in Muslim Contexts 
 
Estela Ambrosio Luna
Cause of death / disappearance

Killed / Asesinada / Assassinée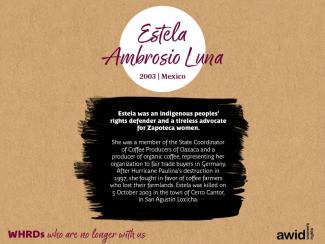 A Joy to the World: Six Questions with Naike Ledan
Interviewed by Chinelo Onwualu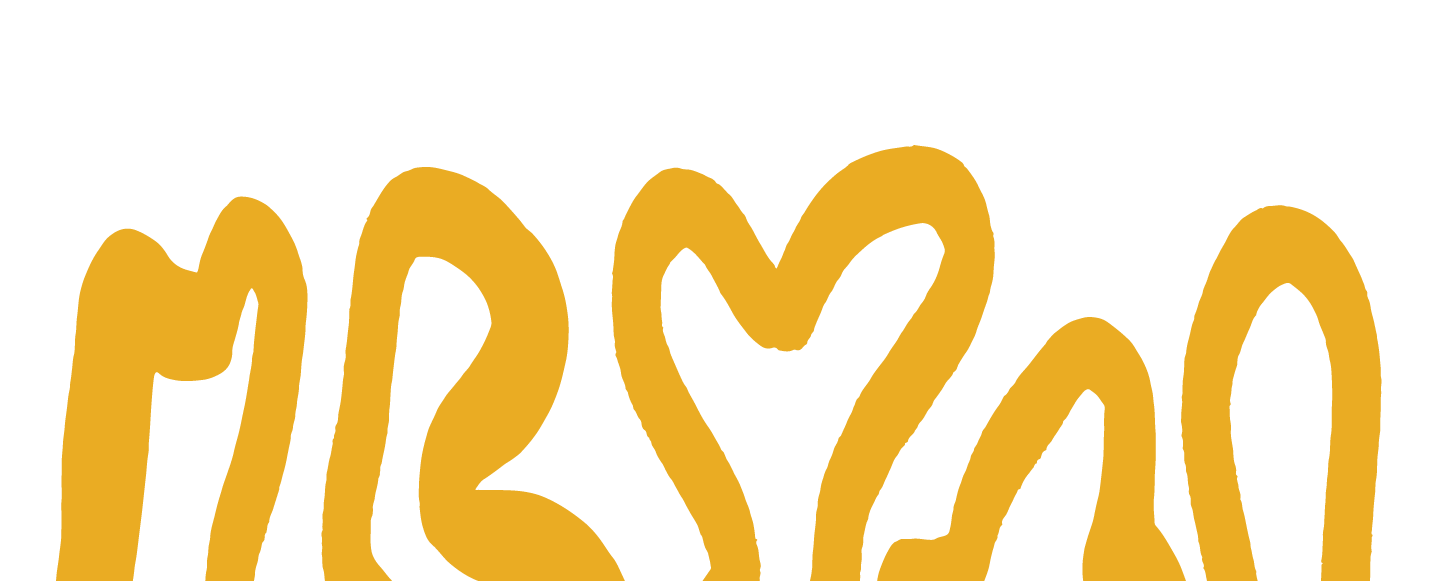 ---
| | |
| --- | --- |
| | Naike Ledan is a social justice defendant, a committed feminist that brings forward 20 years of experience in human rights and health justice advocacy, women's empowerment, the fight for universal access to basic services and social inclusion, as well as civil society capacity building. She has built extensive work in Canada, West and southern Africa, as well as in Haiti, in civil rights advocacy, capacity building for CSOs, while emphasising the social determinants of structural exclusion. She values the principles of shared leadership, anticolonial, anti-oppressive, and anti-patriarchal spaces.  |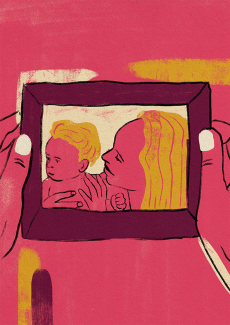 ---
Chinelo You're billed as a trans rights activist; I'm curious about how you made that journey.
Naike So, I grew up in Haiti until I was 18, then I lived in Montreal for 19 years. Coming back to Haiti in 2016, I thought I would be coming back home, but the place had changed and I had to readjust. I did not necessarily reconnect in the way that I'd expected to with childhood family and friends. I came back as an expat with a comfortable work situation, and I felt very much like a foreigner for a very long time. And at the same time, I felt very much at home because of the language, the understood silence, the not having to explain when we start singing a commercial – you know, that thing we share, that energy, that space, that spirit.
What helped me was, I loved the work of going into the country and documenting people's knowledge. So I left the comfort. I became a country director of a regional organisation that was queer as fuck! Most of my work was to find resources and build the capacity of civil society. My strategy was to go into the countryside, look for all these little organizations, help build their capacity, and fund them. I was not interested in politicians and shaking hands and taking pictures . I had a very good ally, Charlot Jeudy – the [queer] activist that got killed three years ago in his house. We got very close after an Afro-queer film festival we were planning got banned in Haiti. But it made a lot of noise and sparked conversations about queerness everywhere, so Charlot introduced me to every little CSO in every little corner of the country. And I would just be there to help organisation[s] with registering legally or building their strategic plan. So it's been a lot of these kinds of work that made me a queer activist and by extension, a trans activist. Although I don't call myself that – an activist. It's such a loaded word, you know? And it's something people call you. I think I'm just a lover and a fighter .
Chinelo Tell me about the workshop you conducted with AWID for the festival. What was it about and what was the context?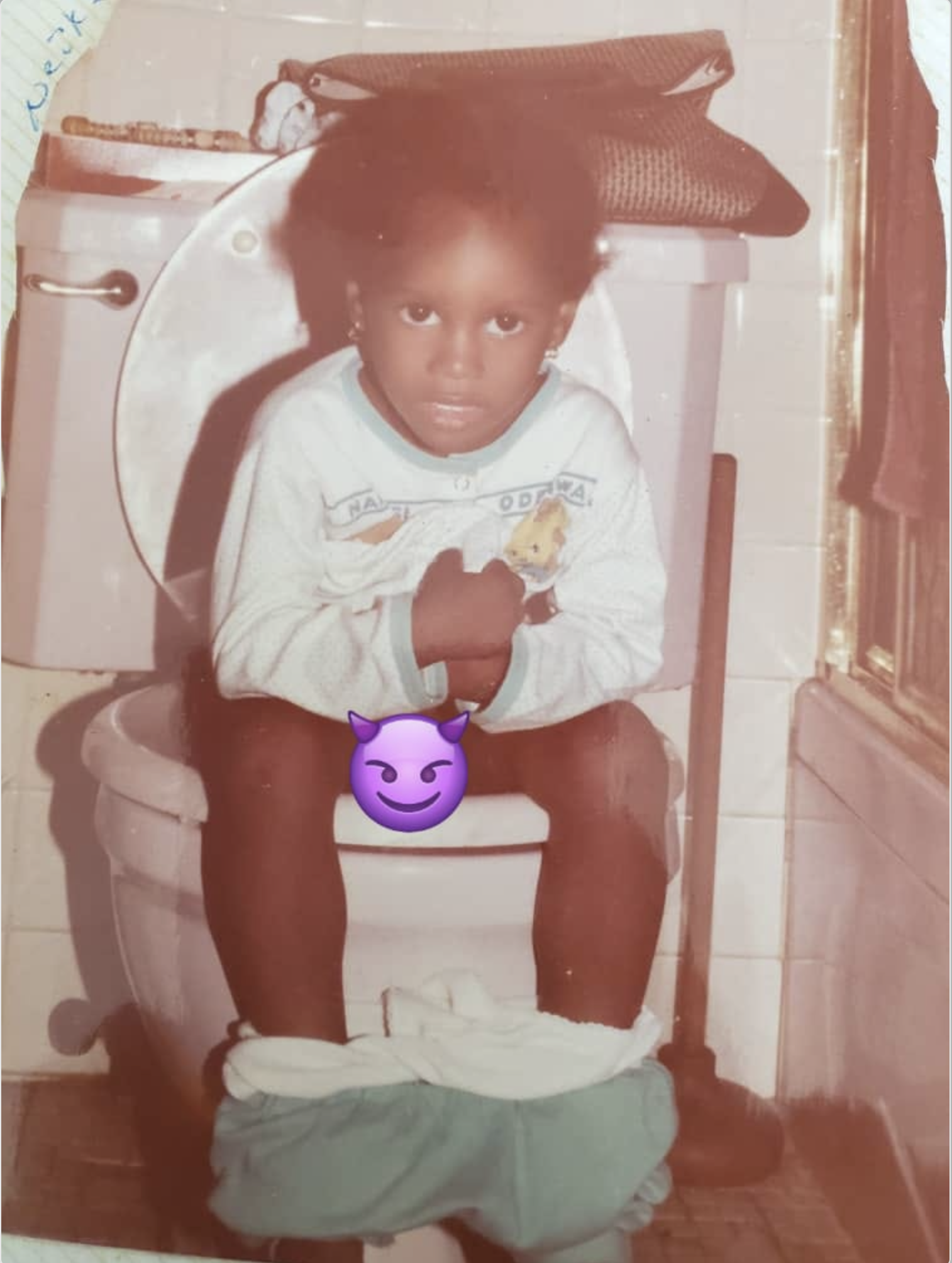 Naike International media doesn't really talk about Haiti, but with a political environment that is as bad as ours, the economic environment is even more catastrophic. Being a more middle class Haitian, speaking different languages, having different passports, I was initially hesitant to take the space. But I often see myself as a bridge more than someone that would talk about themself. That is how I came to invite Semi, who is a brilliant young trans woman from outside Port-au-Prince, to take the space to talk for herself and walk us through the ecosystem of the realities for trans women in Haiti. We ended up building a session about uninclusive feminism – or, I would say, formal feminist spaces – and how trans girls in Haiti do not have spaces where they can contribute to women's knowledge and sharing of women's realities. So the AWID festival was the opportunity for me to give the space to the women who should have it. We had a wonderful time; we had wine online while hosting the conversation. My co-facilitator, Semi, shared what it is like to be a trans child/girl/woman at different stages of her life. She also shared the dangers of the street, of poverty, of exclusion, of "not passing," and her victories as well.
Chinelo What is the relationship of trans women to feminist organizations in Haiti? What has been your experience with that?
Naike It's been really hard – heartbreaking, actually – the experience of trans women in Haiti. From not existing at all to just being extremely sexualized. The other thing that's been happening is how they're being killed, and how those killings have gone unreported in the media. This is how non-existent, how erased trans women are. They're everywhere but not in job settings, not in feminist settings, not in organizational settings. Not even in LGBT organizations. It's only recently, and because of a lot of advocacy push, that some of these organization are kind of readjusting, but in feminist spaces, this is still out of the question. We are still having to deal with the old exclusionary discourse of "They're not women. Of course, if they can pass…" The culture of passing, it's a risk management conversation – how much you pass and how much you don't pass and what it means for your body and the violence it inflicts. In the trans-exclusionary realities we live in, which are reproduced in a lot of feminist spaces, those that pass completely may be considered girls, but only to a certain extent. But how about falling in love, how about having a conversation, how about being in the closet, how about wanting a certain aesthetic, or a career? So really, the conversation about hormone therapy becomes about risk reduction, as Semi herself shared at the workshop. But we don't have the option of hormone therapy, we don't have the medical framework nor the system to support those who would like to pursue that option.
Chinelo When you talk about the way that trans people and queer people are thought of in society, it sounds like it might be similar to Nigeria, which can be a deeply homophobic environment.
Naike Haiti is a very complex country in a very beautiful way. Nothing is simple, you know, nothing is ever one way. Haitians are very tolerant – and they're also very homophobic. You're going to find regions in the countryside where people aren't that homophobic at all because all the Vodou temples there, and this is a religion that respects life. One basic principle of the Vodou religion is that all children are children. So, there is no right or wrong in the religion. For the longest time, people thought of Haiti as a haven, a place where people are tolerant – we're talking 70s, 80s, pre-HIV, 90s even. Then you had the earthquake [in 2010] where around 300,000 people died. And then all this money came from the south of the US through the Evangelicals to rebuild the country and find Jesus. So, the homophobia in Haiti is very recent. In the depth, in the heart of the soul of the culture, I cannot really say that it is homophobic. But in the everyday life, it surely lands on the skin of queer people, that violence. And that of women, of poor women, of dark women as well, because colorism runs deep in the Caribbean.
Chinelo How have you managed this? What's been your strategy for survival?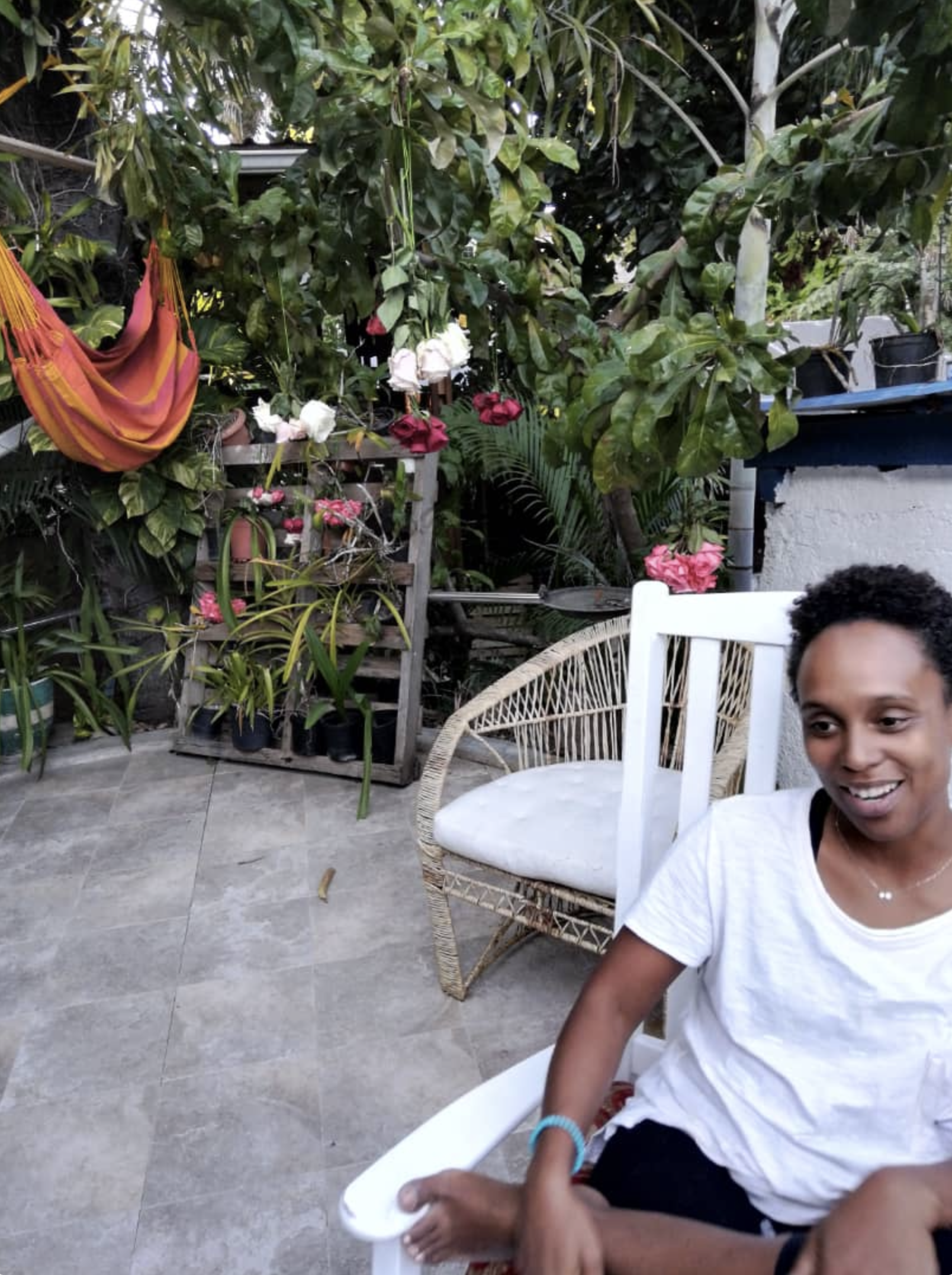 Naike I'm really in love with my work. I love working. When I first arrived, I was working with this horrible NGO but I was doing amazing work. I was always in the countryside, conversing and learning from people, from women. And that filled my heart for so long because I'm very much in love with my culture, with black people, with black women – old black women, black babies. It just fills me up in a spiritual way. When we were in Canada my kids were in these all-white schools and tokenized. They did not speak Creole nor French. And now, they're running free in the yard and starting to fight in Creole. I also found hubs of survival with the people I met. I created bonds with the queers and others who were weirdos like me and it's been really wonderful. But now I'm struggling because I don't feel safe in Haiti anymore. We have about 40 kidnappings per week in Port-Au-Prince – and it's been like that since 2018. I've developed anxiety and panic attacks. So It's time to go, and I've been asking myself, "where is home?" I spent 19 years in Montreal but I never felt at home there. When I left, I never missed it so I don't want to go back. I've been crying a lot lately because it feels like entering a second exile.
Chinelo What's your relationship to pleasure, leisure, and rest?
Naike My relationship with pleasure, leisure, and rest are for me one and the same. It is the lived moment when I indulge in the heat of the sun on my face for example. It is pleasure, leisure, and rest at the same time.
Pleasure: My go-to space, most solely a haven of celebration of myself. I reserve myself the power and the right to be loud or quiet in the enjoyment of the pleasure I experience. All the pleasure I viciously and abundantly indulge in, including and not limited to the pleasure of solitude and silence.
Leisure: biking, music festivals, eating, wine discoveries, dancing in Haitian traditional Vodou dances are amongst many that occur at the moment.
Rest: is what I live for. As an overachiever and a person that is literally in love with work, it is a paradox how lazy I am. No one knows that because all of what the world sees is this: an accomplished overworker. They do not know how I can just, uncompromisingly and profoundly indulge in idleness.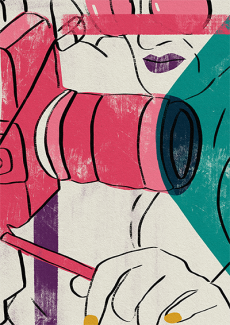 Explore Transnational Embodiments
This journal edition in partnership with Kohl: a Journal for Body and Gender Research, will explore feminist solutions, proposals and realities for transforming our current world, our bodies and our sexualities.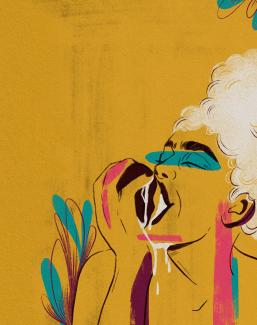 التجسيدات العابرة للحدود
نصدر النسخة هذه من المجلة بالشراكة مع «كحل: مجلة لأبحاث الجسد والجندر»، وسنستكشف عبرها الحلول والاقتراحات وأنواع الواقع النسوية لتغيير عالمنا الحالي وكذلك أجسادنا وجنسانياتنا.
María Verónica Reina
María was recognized globally for her extraordinary leadership in the disability community.
She represented the International Disability and Development Consortium during the negotiation of the United Nations Convention on the Rights of Persons with Disabilities (2001-2006).
Her work was devoted to the implementation of the goal of the Convention - realization of universal human rights by, for and with persons with disabilities for an inclusive, accessible and sustainable world.
In her words, her leadership was about "...serving the disability community, starting with small tasks that others may not wish to do".
She passed away on October 27, 2017 in her hometown of Rosario, Argentina.
Read more about María Verónica Reina in her own words 
---