Co-Creating Feminist Realities
While we dream of a feminist world, there are those who are already building and living it. These are our Feminist Realities!
What are Feminist Realities?
Feminist Realities are the living, breathing examples of the just world we are co-creating. They exist now, in the many ways we live, struggle and build our lives.
Feminist Realities go beyond resisting oppressive systems to show us what a world without domination, exploitation and supremacy look like.
These are the narratives we want to unearth, share and amplify throughout this Feminist Realities journey.
Transforming Visions into Lived Experiences
Through this initiative, we:
Create and amplify alternatives: We co-create art and creative expressions that center and celebrate the hope, optimism, healing and radical imagination that feminist realities inspire.

Build knowledge: We document, demonstrate & disseminate methodologies that will help identify the feminist realities in our diverse communities.

Advance feminist agendas: We expand and deepen our collective thinking and organizing to advance just solutions and systems that embody feminist values and visions.

Mobilize solidarity actions: We engage feminist, women's rights and gender justice movements and allies in sharing, exchanging and jointly creating feminist realities, narratives and proposals at the 14th AWID International Forum.
---
The AWID International Forum
As much as we emphasize the process leading up to, and beyond, the four-day Forum, the event itself is an important part of where the magic happens, thanks to the unique energy and opportunity that comes with bringing people together.
We expect the next Forum to:
Build the power of Feminist Realities, by naming, celebrating, amplifying and contributing to build momentum around experiences and propositions that shine light on what is possible and feed our collective imaginations

Replenish wells of hope and energy as much needed fuel for rights and justice activism and resilience

Strengthen connectivity, reciprocity and solidarity across the diversity of feminist movements and with other rights and justice-oriented movements
Learn more about the Forum process
We are sorry to announce that the 14th AWID International Forum is cancelled
Given the current world situation, our Board of Directors has taken the difficult decision to cancel Forum scheduled in 2021 in Taipei. 
Related Content
Faith Kandaba
Cause of death / disappearance

Natural / Muerte natural / Mort naturelle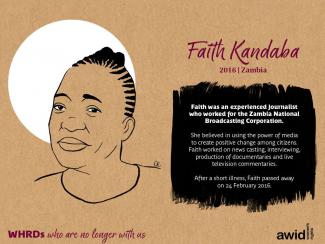 Marta Vásquez
Cause of death / disappearance

Natural / Muerte natural / Mort naturelle 
Ursula K Le Guin
Cause of death / disappearance
Ursula was an American novelist who worked mainly in the genres of fantasy and science fiction.
She found fame with The Left Hand Of Darkness, which imagines a future society where people are ambisexual – they have no fixed sex. It explores the effects of gender and sex in society, and was one of the first major feminist science fiction books. Ursula was inspiring in her subversive and original writing, and also for the themes of feminism and freedom she held so dearly.
In a 1983 address at Mills College in California, she told graduates: "Why should a free woman with a college education either fight Macho-man or serve him? Why should she live her life on his terms? I hope you live without the need to dominate, and without the need to be dominated."
---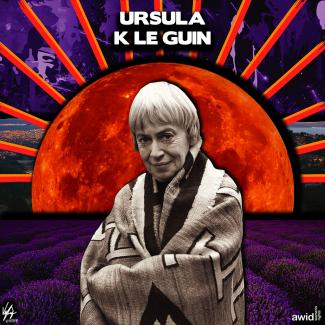 Kagendo Murungi
Cause of death / disappearance
Kagendo is remembered fondly by family and friends as a fierce African feminist activist, artist, and filmmaker.
She dedicated over 20 years to advocate for the rights and dignity of African LGBTIQ and gender non conforming people.
Kagendo's colleagues remember her as someone with a jovial personality, fierce conviction, and love for life. Kagendo died due to natural causes at her home in Harlem on December 27th, 2017.
On Kagendo's passing Kenyan writer and activist Shailja Patel noted "Kagendo's lifelong commitment to connecting the dots between all oppressions, showing how colonialism fostered homophobia on the African continent, making Kenya a country where queer Kenyans and free women could live and thrive."
---