Co-Creating Feminist Realities
While we dream of a feminist world, there are those who are already building and living it. These are our Feminist Realities!
What are Feminist Realities?
Feminist Realities are the living, breathing examples of the just world we are co-creating. They exist now, in the many ways we live, struggle and build our lives.
Feminist Realities go beyond resisting oppressive systems to show us what a world without domination, exploitation and supremacy look like.
These are the narratives we want to unearth, share and amplify throughout this Feminist Realities journey.
Transforming Visions into Lived Experiences
Through this initiative, we:
Create and amplify alternatives: We co-create art and creative expressions that center and celebrate the hope, optimism, healing and radical imagination that feminist realities inspire.

Build knowledge: We document, demonstrate & disseminate methodologies that will help identify the feminist realities in our diverse communities.

Advance feminist agendas: We expand and deepen our collective thinking and organizing to advance just solutions and systems that embody feminist values and visions.

Mobilize solidarity actions: We engage feminist, women's rights and gender justice movements and allies in sharing, exchanging and jointly creating feminist realities, narratives and proposals at the 14th AWID International Forum.
---
The AWID International Forum
As much as we emphasize the process leading up to, and beyond, the four-day Forum, the event itself is an important part of where the magic happens, thanks to the unique energy and opportunity that comes with bringing people together.
We expect the next Forum to:
Build the power of Feminist Realities, by naming, celebrating, amplifying and contributing to build momentum around experiences and propositions that shine light on what is possible and feed our collective imaginations

Replenish wells of hope and energy as much needed fuel for rights and justice activism and resilience

Strengthen connectivity, reciprocity and solidarity across the diversity of feminist movements and with other rights and justice-oriented movements
Learn more about the Forum process
We are sorry to announce that the 14th AWID International Forum is cancelled
Given the current world situation, our Board of Directors has taken the difficult decision to cancel Forum scheduled in 2021 in Taipei. 
Related Content
Why and how to renew your AWID membership
Meet Other Members
Our individual and institutional members come from ALL regions of the world and 163 countries. Our latest members join us from France, South Sudan, the United Kingdom, and Lebanon. All of our members bring with them a rich and diverse array of perspectives, experiences, knowledge, energy and inspiration! 
Did you know about our weekly member profiles?
One of the benefits of being an AWID member, is having your story featured on awid.org, in our newsletters which go out to 35,000 subscribers, and via our social media channels which have over 60,000 followers.
Recently featured:

Meet Angila Ashitua, a young woman from Vihiga county in Western Kenya.

Connect, Inspire, Mobilize!
How?
By engaging with other members through our online members' forum and directory.
By learning more about AWID's work and issues concerning women's rights and social justice through our publications and resources.
By participating in our e-learning sessions. Take a look at highlights from our webinar on Data, Resources and Women's Rights!
By supporting Women Human Rights Defenders (WHRDs) at risk
And much more!
You can renew your membership for 1, 2 or 3 years and we offer free individual and institutional membership for those with low incomes and budgets.
If you have any difficulties and require support with the sign-up process, please do not hesitate to contact us at membership@awid.org
---
What Our Members Say
"We have found AWID to be a very exciting network and we are involved in many of its platforms." - Engabu Za Tooro (AWID institutional member)
"I am looking forward to a fruitful engagement with the team. Feeling great. Thanks for accepting me as a member." - R. Chakraborty (AWID individual member)
"Thank you so much AWID, your work is tremendous. I really appreciated your efforts." - E. Khan (AWID individual member)
Snippet FEA Principles of work Education and Learning (EN)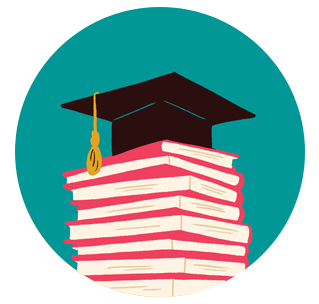 EDUCATION AND CONTINUOUS LEARNING
Challenging the economic growth model
Context
Contesting the premise that a country's economy must always 'grow or die', de-growth propositions come to debunk the centrality of growth measured by increase in Gross domestic product (GDP).
Definition
A de-growth model proposes a shift towards a lower and sustainable level of production and consumption. In essence, shrinking the economic system to leave more space for human cooperation and ecosystems.
The proposal includes
Downsizing resource-, energy- and emission-intensive superfluous production, particularly in the North (e.g. the automotive and military industries)
Directing investments instead into the care sector, social infrastructure and environmental restoration
Feminist perspective
Feminist perspectives within de-growth theory and practice argue that it also needs to redefine and revalidate unpaid and paid, care and market labour to overcome traditional gender stereotypes as well as the prevailing wage gaps and income inequalities that devalue care work.
---
Learn more about this proposition
In "The Future WE Want: Occupy development" Christa Wichterich argues that in order to break up the hegemonic logic of unfettered growth and quick returns on investment, three cornerstones of another development paradigm must combine: care, commons and sufficiency in production and consumption.
Equitable, Ecological Degrowth: Feminist Contributions by Patricia Perkins suggests developing effective alternative indicators of well-being, including social and economic equity and work-time data, to demonstrate the importance of unpaid work and services for the economy and provide a mechanism for giving credit to those responsible.
Human Rights Council (HRC)
The Human Rights Council (HRC) is the key intergovernmental body within the United Nations system responsible for the promotion and protection of all human rights around the globe. It holds three regular sessions a year: in March, June and September. The Office of the UN High Commissioner for Human Rights (OHCHR) is the secretariat for the HRC.
The HRC works by:
Debating and passing resolutions on global human rights issues and human rights situations in particular countries

Examining complaints from victims of human rights violations or activist organizations on behalf of victims of human rights violations

Appointing independent experts (known as "Special Procedures") to review human rights violations in specific countries and examine and further global human rights issues

Engaging in discussions with experts and governments on human rights issues

Assessing the human rights records of all UN Member States every four and a half years through the Universal Periodic Review
---
AWID works with feminist, progressive and human rights partners to share key knowledge, convene civil society dialogues and events, and influence negotiations and outcomes of the session.
With our partners, our work will:
◾️ Monitor, track and analyze
anti-rights actors, discourses and strategies
and their impact on resolutions
◾️
Raise awareness
of the findings of the 
2017 and 2021 OURs Trends Reports.
◾️Support the work of feminist UN experts in the face of backlash and pressure
◾️Advocate for state accountability  
◾️ Work with feminist movements and civil society organizations to advance rights related to gender and sexuality.
Related Content
Media Centre
AWID in the media
News compilation regarding AWID's work and organization.
---
---
Press releases
Press kits and statements
---
Social Media Kits
---
Videos
Conferences, talks, seminars video recordings
Impunity for violence against women defenders of territory, common goods, and nature in Latin America
March 16, 2018
Rural women's resistance to closing civic space
March 15, 2018
 
Empowering rural women in mining affected environments
March 13, 2018
Feminist Perspectives on Accountability
March 13, 2018
Gender Perspectives on Corporate Accountability
March 12, 2018
Media contact
+1 416 594 3773
Benjaline Hernandez
Selection of Forum activities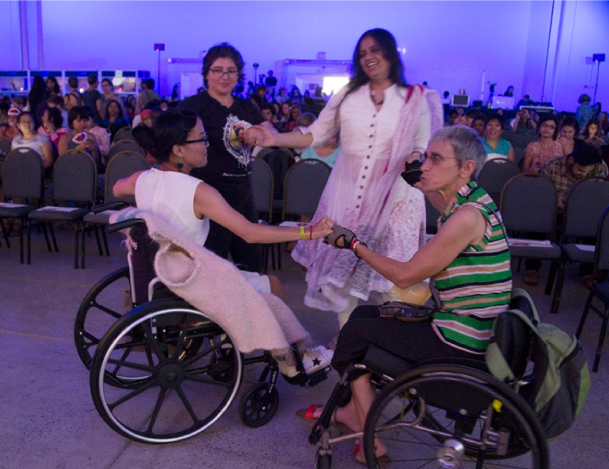 For each AWID Forum we call for contributions from a wide range of feminist and social justice movements to propose activities and create the Forum program.
For the 14th AWID international Forum, we want to make the program truly representative of the diversity of the movements.
That is why we put in place a new and engaging way to choose the proposals that will generate the final Forum program: the Participatory Selection Process (PSP).
What is the Participatory Selection Process (PSP)?
The Participatory Selection Process is the final step in reviewing the activity proposals and selecting those that will be part of the official Forum program. 
This is how it works: 
Activity proposals have originally been submitted via our Call for Forum Activities, open to everyone - groups and individuals - interested in presenting their feminist reality at the Forum.
Out of all the activities submitted, AWID staff pre-selects the ones best reflecting the Forum theme and presenting a creative approach for audience engagement.
Activities are then reviewed and short-listed by different Forum Committees to ensure a good diversity of regions, movements and ideas.
The selected proposals are then reviewed and rated by individuals and groups whose proposals have also been short-listed. The proposals which receive the most votes from fellow candidates will become part of the final Forum program.
The whole activity selection process at a glance:
Step

 

Step 1: 
Call for Forum Activities: Application submissions

Step 2:
First screening

 

Step 3:
Shortlisting 

 

Step 4:
Participatory Selection Process 

 

Timeline

December 2019 - mid.February 2020

 

January-February 2020

 

Summer 2020

 

timeline to be adjusted

 

People involved
Everyone interested in co-creating the Forum program

AWID staff

 

AWID staff; Content and Methodology Committee; Access Committee

Shortlisted applicants

 

Number of activities involved

838 activities submitted

 

306 applications selected

 

126 activities selected

 

50-60 most voted activities selected for the final Forum program

Why did AWID decide to organize a PSP for the 14th AWID Forum activities?
We think a PSP is relevant for the AWID Forum because:
It places at the centre of the decision making process the communities who live the feminist realities that will be showcased and discussed at the Forum 

It is consistent with our identity and our role as a movement support/ accompaniment organization. 

It is in line with our vision of the Forum as co-created with different feminist and social justice movements, who shape the Forum through their participation in committees (content and methodology, access, artivist and host country), creating and facilitating activities as partners with AWID and also making decisions about the Program through the PSP.

It allows for greater diversity in the textures that will make up the Forum fabric (or in the voices that will compose the Forum song). It ensures we go beyond AWID itself and the movement partners that we already know and work with. It opens the door to the unexpected.
How did AWID come up with this PSP idea?
This is the first time AWID is considering such a process.
The initial idea came from AWID's Co-EDs and staff. Before committing to a decision, we consulted some of the community funds that have been implementing participatory selection processes for years. These included FRIDA: The Young Feminists Fund, the International Trans Fund, UHAI - East Africa's fund for sexual minorities and sex workers - and the Central American Women's Fund. We consulted them to learn from their extensive experiences and get their feedback.
---
Pre-selected activities
Financial autonomy, breaker of silence
ORGANISATION DES FEMMES AFRICAINES DE LA DIASPORA (OFAD) ASSOCIATION LES PETITES MERES PRODADPHE ASSOCIATION AMBE KUNKO (AAK)

Contribution of feminist organisations to the fight against violent extremism in Niger
Femmes Actions et Développement (FAD)

Self-financing: home banking for women 
Rassemblement des Femmes pour le développement endogène et solidaire RAFDES

Food and food sovereignty for rural women
Association Song-taaba des Femmes Unies pour le Développement (ASFUD)

Feminist leaders, investing in positive masculinity, creating a new balanced social order: how to change mentalities? 
Une societe cooperative, la chefferie traditionnelle des localites, les autorites administratives et les autres associations feminines ONG Centre Solidarite "Investir dans les Filles et les Femmes

Co-creating the sponsorship methodology.
NEGES MAWON

Millennium of opportunities to save the earth (MOST) by supporting climate justice for local and Indigenous communities in Congo Basin. 
Jeunesse Congolaise pour les Nations Unies (JCNU), Association Genre et Environnement pour le Développement (AGED)

Envisioning an Asian Queer Feminist Politics
ASEAN Feminist LBQ Womxn Network Sayoni

Supporting the Self-Managed: Abortion Doulas, Acompanantes, and Radical Networks of support
inroads

Online Feminisms: How Women Are Taking Back The Tech
Feminism In India

Committee on the Elimination of Discrimination Against Sex Workers
Asia Pacific Network of Sex Workers (APNSW), The International Women's Rights Action Watch Asia Pacific (IWRAW AP)

Sustainable Feminist Leadership and Organizing - Personal and Collective Experiences
HER Fund, Institute for Women's Empowerment (IWE) ,Kalyanamita, AAF

Caribbean Realities: Black Sauna Radio
WE-Change Jamaica

Telephone Helplines Care and Women Experience
Generation Initiative for Women and Youth Network (GIWYN),Youth Network for Community and Sustainable Development (YNCSD), Community Health Rights Network (CORENET)

Sensuality as resistance; body movement workshop
UHAI EASHRI

Lesbian Disco Eastern European Style
Sapfo Collective

FitcliqueAfrica Feminist Utopia Installation, Trauma Healing and Self Defense Camp
FitcliqueAfrica (Fitclique256 Uganda Limited)

Queering Communications for an Open Internet
Astraea Lesbian Foundation for Justice

Is the Way you Think about Sexual and Reproductive Health (SRHR) Ableist? Good Practices for Disability Inclusive SRHR Programmes and Advocacy.
Asia Pacific Network of Women with Disabilities and Allies

Decolonizing Non-Violent Communication
API Equality-LA, Sayoni, ASEAN Feminist LBQ Womxn Network

Feminist centred approaches to prosecuting sexual harassment in the world of work
Women's Legal Centre

Women in Conflict in Myanmar
Women's League of Burma, Rainfall

Caribbean Feminist Spaces, Creative Expressions & Spiritual Practices for Community Transformation
CAISO: Sex and Gender Justice

POP-UPS: Just Power: Popular Education Tools for a Feminist Future
JASS/Just Associates

UnAnonYmous: Queering Black African Diaspora Feminist Practices Sobriety

Digital Witchcraft: Magical Thinking for Cyberfeminist Futures
The Digital Witchcraft Institute

Building Womanifestos: Grassroot Women's Agenda for Change in Asia Pacific
Asia Pacific Forum on Women Law and Development

Designing your astral travels
EuroNPUD, narcofeminists as a loose group

Collective Care
RENFA Rede Nacional de Feministas Antiproibicionistas

Music of our movements
Radical imagination

From waste to Ecofriendly coal
KEMIT ECOLOGY SARL

Collective care and insurgency of feminist antiracist movements under authoritarian and violent contexts
CFEMEA - Feminist Center of Studies and Advisory Services, CRIOLA - black women`s organization, Iniciativa Mesoamericana de Mujeres Defensoras

Breaking Patriarchal Religion's Stranglehold on Family Laws that Affect Our Lives #FreeOurFamilyLaws
Musawah

Feminist approach to claim and control over lands within investment
Badabon Sangho, APWLD

Women's Global Strike: Our resistance, our future
Asia Pacific Forum on Women, Law & Development, ESCR-Net, Women's March Global

Towards an Inclusive 'Mother Earth'
Disability Rights Fund, Open Society Foundation

From Inclusion to Infiltration: Strategies for Building Intersectional Feminist Movements
Mobility International USA (MIUSA)

The hidden stories of women with invisible disabilities: Art in action
The Red Door, Merchants of Madness, Improving Mental Wellbeing through Art

Public-Private Partnership and Women´s Human Rights: learnings from case studies in the Global South
Development Alternatives with Women for a New Era (DAWN)

The Interconnected Journey: Our Bodies, Our Sci-Fi! <3
The Interconnected Journey Project, Laboratorio de Interconectividades

Compiling and Building: Alternative feminist vision to challenge the dominant world economic order
IWRAW Asia Pacific

Self-publication as a feminist act
International Women* Space

Good Practices of legal protection for gender & sexual minorities in Pakistan and their Intersectionality
Activists Alliance Foundation, Khawja Sirah Society, Wajood Society, Wasaib Sanwaro

Feminist Approaches to Counter Trafficking
IWRAW Asia Pacific, Business & Human Rights Resource Center

Critiquing individualism and state policies: transnational organizing against targeted violence
Masaha: Accessible Feminist Knowledge

Decolonizing Intimacy: How Queer Identities Challenge Heteronormative Family Structures
WOMANTRA

Yeki Hambe - Sex worker theatre
Sex Worker Education and Advocacy Task Force

Creating the Indigenous feminist reality: honoring the sacred feminine and building new paths for Indigenous women
Cultural Survival, International Funders in Indigenous Peoples

Eyes on Anti-prohibitionism by Brazillian Women
Mulheres Cannabicas, Tulipas do Cerrado

Black Feminist Truth Commission: Addressing Injustices to Revolutionize Intersectional Feminism as the New Reality
Black Women in Development

Community care is self care: true stories are told in safer spaces
Eurasian Harm Reduction Association, Metzineres, Urban Survivor's Union, Salvage women and children from drug abuse

NO MOVES BARRED:Dancing connections between Disability,trans & sexual rights against violence
National Forum of Women with Disabilities, Autonomy foundation, Nazyk kyz

The Impact of Corporate Capture on Feminist Realities: Developing Tools for Action
ESCR-Net | Economic, Social, Cultural Rights Network

Reimagining AIDS: building a feminist HIV response
Frontline AIDS, Aidsfonds, IPPI (Indonesian Network of Women Living with HIV), UHAI-EASHRI (East African Sexual Health and Rights Initiative)

Advancing Economic Justice towards Realizing Our Vision of a Feminist Planet
International Network for Economic, Social and Cultural Rights, ESCR-Net

Sex Workers Cafe
Hydra e.V.

Adopting an ecofeminist approach in dealing with climate change and food security
Umphakatsi Peace Ecovillage, Human Rights Educational Centre

Connecting the grassroots with the international: experience from creative sex worker mobilisation in Europe
International Committee on the Rights of Sex Workers in Europe, STRASS - French Sex Worker Union, APROSEX, Red Edition

Experiment with how innovative tech can help us feel safer when navigating our cities
Soul City Institute for Social Justice, Safetipin, Womanity Foundation

question "Are hierarchies within organisations UNfeminist?"
Gay and Lesbian Coalition of Kenya National, Gay and Lesbian Human Rights Commission

We all are different, but we do have joint shared values
UNWUD (Ukrainian network of women who use drugs), JurFem Association, Women's Prospects

A World Without Class
Bunge La Wamama Mashinani (Grassroots Women's Parliament)

Women Empower the Community
Institute for Women's Empowerment (IWE), Solidaritas Perempuan, ASEC Indonesia, Komunitas Swabina Pedesaan Salassae (KSPS)

Feminist Organizing: Transformational Leadership - Women Workers in Latin America Creating a Feminist Labor Movement and a Feminist World of Work
Solidarity Center

Acting Out, Acting Up : Disability-Feminism decolonising narratives of Stigma thro' Participatory theatre
Rising Flame, National Indigenous Disabled Women Association, Nepal, The Spectrum & Union of Abilities, The Red Door

Valuing and centering rest, pleasure and play
ATHENA Network

The African feminist judgment project
The Initiative for strategic Ligation in Africa (ISLA)

Voices from the frontlines: Bolstering collective power to end the incarceration of women worldwide
International Drug Policy Consortium, Equis Justicia para las Mujeres, National Council for Incarcerated and Formerly Incarcerated Women and Girls, Women and Harm Reduction International Network

Queer Youth Organising: imagining in an era of human rights and sustainable development
African Queer Youth Initiative, Success Capital Organisation

Our Struggles Our Stories Our Strengths
Oriang Lumalaban, Pambansang Koalisyon ng Kababaihan sa Kanayunan

Breaking barriers for collective Indigenous climate action in Southeast Asia
Cuso International, Asia Indigenous Peoples' Pact

Love Positive Women: Going beyond romantic love to deep community love and social justice
Eurasian Women's Network on AIDS

Intersex and Feminism
Intersex Russia

Understanding the reproductive health experiences and needs of transgender and gender diverse people
Asia Pacific Transgender Network (APTN)

Because She Cares: Critical conversations on HIV activism as (un)caring work
Because We Care Collaborative

The Mississippi Food Systems Manifesto
Center for Ideas, Equity & Transformative Change, National Council of Appropriate Technology - Gulf South, MS Food Justice Collaborative, Malcolm X Grassroots Movement

Kurdish Women's Movement co-presidency experience as an example of a radical feminist realization: Co-presidency is our PURPLE line!
The Free Women's Movement (TJA)

WOES -"Walking on Egg Shells"
Eldoret Women For Development (ELWOFOD), Mama Cash, Young women against Women Custodial Injustices Network

FREEDOM

Prison Isn't Feminist: Exploring the impact and alternatives to reliance on police and incarceration
Migrant Sex Workers Project, Showing Up For Racial Justice

Bondo without Blood: A Feminist Reimagining of Sierra Leonean Rites of Passage
Purposeful

Liberated Land & Territories: A Pan-African Conversation
Thousand Currents (USA), Abahlali baseMjondolo (South Africa), Nous Sommes la Solution (west Africa/regional), Movilización de Mujeres Negras por el Cuidado de la Vida y los Territorios Ancestrales (Colombia), and Articulation of Black Rural Quilombola Communities (Brazil)

Popular Education and Organizing for a Feminist Economy
Jamaica Household Workers Union (JHWU), United for a Fair Economy, Centro de Trabajadores Unidos en la Lucha (CTUL)

So You Wish To Mobilise With An Empty Wallet? Let's Make It Happen!
Breakthrough India

Experience sharing establishing a network for women human rights defenders in East Africa: Ugandan perspective
Women Human Rights Defenders Network Uganda

Tech clinic
Stichting Syrian Female Journalists Netowrk

Building Inclusive Movements: Going Beyond Tokenism
Rising Flame

Justice & Healing for Survivors of GBV: an interactive debate on restorative justice and the anatomy of an apology
One Future Collective

Collective actions to ending transphobia through a feminist lens
Asia Pacific Transgender Network, Iranti, Transgender Europe

LBQ women & Asylum
Sehaq

Abortion and Disability: Towards an Intersectional Human Rights-Based Approach
Women Enabled International

Learn how to support the self-organizing of undocumented, migrant, and criminalized and sex workers communities
Buttrerfly (Asian and Migrant Sex Workers Support Network)

Self Care: A Fundamental Tool for Sustaining LGBTQI & Feminist Organizing
United and Strong Inc., S.H.E Barbados, Lez Connect

Reclaiming Young African Feminist VOICES-REALITIES-POWER for climate justice
Young Feminist organization Gasy Youth Up, Young African Feminist Dialogues

Women in action & solidarity: performing our realities (Asia & Africa)
Young Feminist organization Gasy Youth Up ( co-founder) , Young African Feminist Dialogues ( member)

Women in action & solidarity: performing our realities (Asia & Africa)
Women Performing the World (Asia/Africa)

Challenging patriarchy: Workers in entertainment sector
Women Forum for Women in Nepal (WOFOWON)

The non-citizens: issues of women's citizenship in the context of migrant, vulnerable communities in South Asia
NEthing

Visioning for voice in migration and climate crises
Women's Refugee Commission, The Feminist Humanitarian Network, ActionAid

In It Together: Women's Funds and Feminist Movements Co-Creating Feminist Realities
Mama Cash, Global Fund for Women, Urgent Action Fund - Africa

Co-creating magic with young feminist movements - participatory practices that spark joy
Feminist organizing, FRIDA The Young Feminist Fund (Community), Teia

Protection right of woman's in difficult realities 3 organizations of women from marginally communities
NGO Asteria, Ermolaeva Irena and Bayazitova Renata. NGO Ganesha Musagalieva Tatiana. NGO Ravniy Ravnomu Kucheryavyh Tanya

Feminnale - traditions against art and expression
Bishkek Feminist Initiatives

Resistance through knowledge, arts and activism: creation of a feminist library in Armenia
FemHouse, Armenia

Conquering the UN System with Feminist Strategies (You Don't Need to be a Lawyer to Have Fun)
Kazakhstan Feminist Initiative "Feminita", IWRAW Asia Pacific, ILGA World

Data. Huh. What is it good for? Feminist data and organizing for feminist outcomes
International Women's Development Agency, Women's Rights Action Movement, Fiji Women's Rights Movement

Criminalized Women's voice, leadership and influence on laws, policies and practices in Kenya
Keeping Alive Societies Hope-KASH, Katindi Lawyers and Advocates, Vocal Kenya

From Colombia to the world, African women's changing force
Proceso de Comunidades Negras en Colombia -PCN, Solidarité Féminine por la Paix el le Develppment Integral -SOFEPADI,

Afro Queer Listening Lounge and Story-Telling Booth
AQ Studios, None on Record, AfroQueer Podcast

Reclaiming Bodily Integrity
GBV Prevention Network : Coordinated by Raising Voices

Learning from diversity
Circulo de Mujeres con Discapacidad -CIMUDIS, Alianza Discapacidad por nuestros Derechos -ADIDE, Fundación Dominicana de Ciegos -FUDCI, Filial Puerto Rico de Mujeres con Discapacidad

Football as a feminist tool
Fundación GOLEES (Género, Orgullo, Libertad y Empoderamiento de Ellas en la Sociedad)

Migratory constellations
LasVanders

Ecofeminist dialogues to defend territories
CIEDUR (Centro Interdisciplinario de Estudios sobre el Desarrollo), Equit, Foro permanente de Manaos y Amazonia

La Frida BikesMoviment
La Frida Bike

Witchcraft, shamanism and other insurgent knowledge against patriarchy.
Colectiva Feminista MAPAS-Mujeres Andando Proceso por Autonomías Sororales

Experiences, learnings and challenges in managing holistic security of horizontal feminist organisations and of gender-dissidence in times of social and political crisis. The experience of the popular uprising in Chile of 18 October.
Fudación Comunidades en Interfaz

Food that we all know about
Las Nietas de Nonó, Parceleras Afrocaribeñas por la Transformación barrial (PATBA)

Practices of resistance against climate change of Indigenous women in Peru and Guatemala
Thousand Currents, Red de Mujeres Productoras de la Agricultura Familiar, Asociación de Mujeres Ixpiyakok (ADEMI, Ixpiyakok Women's Association)

Building Feminist Cities
CISCSA, Articulacion Feminista Marcosur

Stand in my place
Alianza Discapacidad por nuestros Derechos - ADIDE, Circulo de Mujeres con Discapacidad -CIMUDIS

Clearing the way for women's fullness of life, healing collective and historical traumas
Grupo de Mujeres Mayas Kaqla

Zapoteca Indigenous women challenged by nature

Houses of Care and Healing for Women Human Rights Defenders as part of Integral Feminist Protection: A Feminist Reality
Iniciativa Mesoamericana De Defensoras de Derechos Humanos, Consorcio Oaxaca para el Diálogo Parlamentario y la Equidad A.C, Red Nacional De Defensoras De Derechos Humanos en Honduras, Coletivo Feminista de Autocuidado

Healing your unicornix voice: Weaving ancient and digital technologies to sharpen the tongue

Feminist trajectories for an assisted motherhood protocol for women with disabilities
Circulo emancipador de mujeres y niñas con discapacidad de Chile, CIMUNIDIS, WEI

School for trans feminist children
Fundación Selena

REDTRASEX: Experience of Organization and Struggle for the Rights of Women Sex Workers in Latin America and the Caribbean
RedTraSex Red de mujeres trabajadoras sexuales LAC

Gender based violence and the world of sex work in Mexico
Brigada Callejera de Apoyo a la Mujer, "Elisa Martínez", A.C., Red Mexicana de Organizaciones Contra la Criminalización del VIH. Red Mexicana de Trabajo Sexual

Migration forces us to draw the path as we walk
Asociación de Trabajadoras del Hogar a Domicilio y de Maquila. ATRAHDOM

New narratives for Black women: body, healing and pleasure

Weaving memories and networks - Black Feminists strengthening Black feminisms in LAC
Red de Mujeres Afrolatinoamericanas, Afrocaribeñas y de la Diáspora, Articulação de Organizações de Mulheres Negras Brasileiras (AMNB), Voces Caribeñas
Fariha Al Berkawi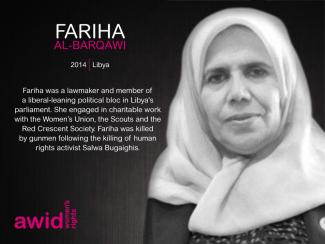 Introduction to the films from Nuestramérica
By Alejandra Laprea
What a difficult task, that of condensing all the power and diversity of voices being raised in Latin America to tell the other stories emerging in this vast territory, to speak of the feminist realities we are building in our movement and other community-based organizations.
I spent a long time trying to establish parameters for the search and selection of these films, with the idea that they  would enable you to get a little closer to so many dreams and projects that are slowly coming into being in the territories Nuestroamericanos, of our Americas, as we like to call them ourselves. It was a tough job trying to establish parameters, such as geographic location, linguistic justice, and representation of diverse communities — Indigenous, Afro-descendants, migrants  — and the many causes and claims for which they raise their voices. I arrived at the conclusion that making such a compilation would be the work of years, one of those projects always under construction.
And so I decided to search for works that have emerged out of organizing and activism, as well as films that will perhaps spark major debates that we are yet to have.
In this selection of films you will find the voices of filmmakers who are not content with simply recording the feminist realities that palpitate in every corner of this vast and diverse territory. These are works that from their very conceptualization are questioning for what, by whom, and how films and videos are made. They understand film to be an instrument of struggle,  something more than images to be enjoyed on a screen. These are individual or collective filmmakers who see film and video making as an instrument to promote discussion, open a debate, and thus serve as a resource for popular and feminist pedagogies.
Seen in this light, this small film selection is a journeythrough feminist realities on two levels; on one level are the stories you will see, and on another level, there is the experimentation of filmmakers who are seeking and creating other feminist realities through the ways in which they are making films and telling stories. 
Enjoy this journey through films that Resist, Create, and Transform.
---
Lima is Burning
Direction: Giovana García Soto
Docu-fiction
Spanish with English subtitles

In Lima is Burning our work plays with documentary and fiction to take us into the life of Gía, a non-binary person, who uses performance art as a tool to denounce and transgress, as a vital manifesto against transfobia in every space, including gays spaces. With Gía we also take a look at transfeminism as a safe community in which Gía feels embraced, where she shares feelings and affections. 
Giovana Garcia Sojo is a young peruvian audiovisual producer, specialized in low-budget production, creation for children and adolescents in cinema and cinematographic script by the International School of Cinema and Television - EICTV in San Antonio de Baños - Cuba. Giovana has developed her path as a director towards women and feminized identities, Lima is Burning is one of her first works.  
---
Yo, Imposible / Being Impossible 
Director: Patricia Ortega
Fiction
Spanish with English subtitles
Patricia Ortega, director of «Yo, Imposible» ["Being Impossible"] explores through the character of Ariel, a young girl whose  intersex body was surgically violated as a child, the many ways that society attempts to normalize sexual and gender diversity.
The film tells the story of how Ariel discovers she was born intersex and subjected to several surgeries to normalize her genitals. This discovery leads the character to rediscover her body and reconstruct her identity. The audience is led to question a society dominated by heteronormativity which renders others invisible and condemns them to a life of unhappiness. 
Patricia Ortega is a Venezuelan filmmaker living in Argentina who studied at the International School of Film and Television in Cuba, where she specialized in film directing. Patricia uses fiction to address extreme situations that women or feminized bodies go through, and how they overcome them.
«Yo, Imposible»' takes a position vis-à-vis the dominant conception of a world in which only the masculine and feminine exist, which makes others invisible. "They are not sick. They are just genetically different. Interventions are done on their genitals and bodies through hormones without their consent, which is a violation of their human rights and identity, forcing them to fit into established categories'' - Patricia Ortega
---
Cubanas, mujeres en revolución [Cuban Women in Revolution]
Director: Maria Torrellas Liebana
Documentary
Spanish with English subtitles
María Torrellas narrates the story of the Cuban Revolution through the women who brought it to life, Vilma Espín, Celia Sánchez, and Haydee Santamaría, among others.
For women, telling the story of the Cuban Revolution is not something of the past, but a daily struggle that Torrellas shows through the voices of Cuban rural women, professionals, students, and workers in the present. In "Cuban Women in Revolution" we encounter the current challenges facing Cuban women such as the persistence of old prejudices, new forms of violence, and the constant challenge of creating new feminist realities for themselves and the next generations in a territory besieged by USA imperialism for more than 70 years.
Maíia Torrellas
María Torrellas is a journalist and documentary filmmaker. She has a long trajectory of filmmaking and has won, among others, the Santiago Alvarez in Memoriam award for her documentary "Memoria de una hija de Oshun" [Memory of a Daughter of Oshun].
"In the documentary I have woven together the struggles of yesterday's heroines with those of today's women. The women tell their own stories and also describe those whose struggles they most admire. It made an impression on me to hear the words 'The Revolution gave us everything' or 'What would have become of my family without the Revolution?' from voices of compañeras who are poor, rural, or Black." - María Torrellas
---
Serie documental Cuidanderas [Mini documentary series Women Healers/Carers]
Directors: Gabriela Arnal and Marzel Ávila for Fondo de Acción Urgente - LAC
Ecuador 2019
Spanish with English subtitles
CUIDANDERAS joins the words cuidar (to care for) and curanderas (women healers) synthesizing the identities of a series of women in Latin American territories, women who put their bodies and all their energy into protecting the Commons, what Pachamama gives us, with the commitment that we use it as wisely as the rest of living beings doThis mini series of documentary films presents the stories of three collectives of Latin American women who are committed to caring for their territories, healing their bodies, and confronting extractivist and racist projects in Ecuador, Colombia, and Bolivia.
GUARDIANAS DE LA AMAZONIA [GUARDIANS OF THE AMAZON]
Province of Orellana, Ecuador. For centuries the Waorani women have been engaged in a struggle for their territory in the Amazon and the preservation of their Indigenous culture. Today they confront threats by the oil industry and their death-production model. From the jungle, leaders from the Waorani Women's Association of the Ecuadoran Amazon (AMWAE, in Spanish) share the motivation behind their resistance and show their greatest power: their inexhaustible joy.
COMADRES DEL PACÍFICO COLOMBIANO [BLACK SISTERHOOD OF THE PACIFIC]
Buenaventura, Colombia. In the largest and most violent port city in Colombia, plagued by decades of armed conflict, racism, and machismo, a group of women refuse to give in to fear and continue to resist in the face of adversity. The Butterflies with New Wings network is made up of Black women from the Pacific coast of Colombia who work together to protect their territory, recuperate their ancestral traditions, and heal the wounds of systematic and structural violence.
HERMANAS DEL ALTIPLANO [SISTERS OF THE HIGHLANDS]
Indigenous, rural, and regantes (women in charge of irrigation) in Bolivia are calling for the care and protection of bodies-earth-territories, as they are faced with an extractive production model which threatens their lives, health, physical and sexual integrity, and the survival of their communities and territories. The Network of Defenders of Mother Earth is made up of women from 12 Indigenous communities who are defending the right to water and denouncing mining companies' violations of human rights and the rights of Nature while working to recuperate their ancestral ways of knowledge and practices of collective care.
"CUIDANDERAS, a combination of the words cuidar (to care for) and curanderas (women healers), presents the stories of Latin American women defenders who are caring for their territories and healing their bodies. The collective power of these women has changed the history of their communities in Ecuador, Colombia, and Bolivia as they confront extractivist and racist production models."
---
Yo aborto, tú abortas, todxs callamos [I abort, you abort, we all keep silent]
Director: Carolina Reynoso
Argentina 2013
Spanish
If there is one thing that has marked feminist movements across the continent of Latin America that is the call for abortion to be made available, safe, and free. From North to South feminist movements are rising up and taking to the streets fighting for the liberation of our first territory, our bodies, which is why this selection must include a documentary on abortion to fully understand the power of the women of Nuestramérica.
Yo aborto, Tu Abortas, Todxs Callamos [I abort, you abort, we all keep silent] presents the stories of seven women from different social classes, including the director of the documentary herself, who reflect on something they have all experienced in their own bodies: clandestine abortion.  
Through their stories, the film aims to bust myths regarding the voluntary interruption of pregnancy, de-stigmatize the topic, and show one of the most common forms of violence in the Americas in a new light.
Carolina Reynoso
Director, researcher, and producer of feminist films. She is also a feminist activist who organizes workshops on screenwriting from a gender perspective so that more films are made showing other counterhegemonic realities and stories. Carolina Reynoso strikes a balance between activism and creation in each one of her works.
"We are a group of filmmakers who make documentaries in order to continue fighting to make abortion available, safe, and free in Argentina. The film presents the testimonies of seven women from different social classes, including the director of the documentary herself, who reflect on something they have all experienced in their own bodies: clandestine abortion." -The filmmaking team
---
Historias Urgentes: Resistencia en ollas Comunes [Urgent Stories: Resistance in the Soup Kitchens]
Nosotras Audiovisuales, collective of Chilean women filmmakers
Chile 2020
Spanish
"Urgent Stories" is a series created by women to make their needs and important experiences visible to the people living in the territories that today comprise Chile. This film series aims to keep alive the flame ignited by the social uprising of October 2019, the flame ofChile in all its diversity that woke up and said, 'Enough!'
«Resistencia en ollas comunes» [Resistance in the Soup Kitchens] is the first of these "Urgent Stories." Through the voices of four women from Iquique, Valparaiso, Chillan and Santiago, it shows how by collectively assuming care work they are on the front lines of resistance, creating other feminist realities for themselves and the communities where Latin American women live.
Nosotras audiovisuales
This organization was formed in 2017 to link together women involved in the Chilean filmmaking scene. It helps women filmmakers to network, collaborate, and share information along with their works and perspectives on the field.
Nosotras Audiovisuales contributes to the Chilean uprising by documenting it and collectively generating new material.
---
Se trata de Mujeres [It's about Women]
Micol Metzner
Argentina 2019
Spanish
Based on her personal experience, director Micol Metzner presents a film mixing documentary with fiction, aligning her filmmaker's voice with that of thousands of women who have been victims of trafficking across the continent and showing how solidarity among women is the best form of protection.
Micol Metzner
Filmmaker trained at the Instituto de Arte Cinematográfico de Avellaneda [Avellaneda Institute of Film Arts]. Art director and editor. Metzner belongs to the Video Cluster of the City of Buenos Aires, a community space and multisectorial cooperative for independent projects.
She facilitates filmmaking workshops in working class neighbourhoods and spaces of enclosure (youth group homes and women's prisons). She is a member of the film production house MVM.
"The production house MVM was born out of the necessity to express a lot of things that we regularly protest on the streets about while also doing it in a creative way through drawing, film, and photography.The production house MVM is a place that interrogates language, image, film from a feminist perspective. It is also a place for processing everything we have gone through and using art to make things sometimes to heal, sometimes to generate public debate as happened with this short film…I didn't imagine that was going to happen, but when we showed  it,  a lot of things were set  in motion. Discussions happen that are even more enriching than the short film itself. That this can happen based on something we made is so good…" - Micol Metzner
---
Follow us on Social Media to receive news about upcoming events and screenings:
Facebook: @AWIDWomensRights
Instagram: @awidwomensrights
Twitter ENG: @awid
Twitter ES: @awid_es
Twitter FR: @awid_fr
LinkedIn: Association for Women's Rights in Development (AWID)
Cheryl Ananayo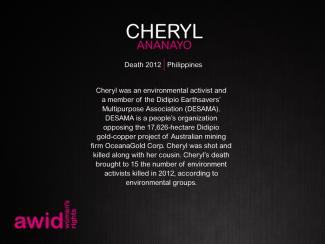 Advancing Feminist Agendas: Key Progressions on Gender and Sexuality
Chapter 1
While fundamentalisms, fascisms and other systems of oppression shapeshift and find new tactics and strategies to consolidate power and influence, feminist movements continue to persevere and celebrate gains nationally and in regional and international spaces.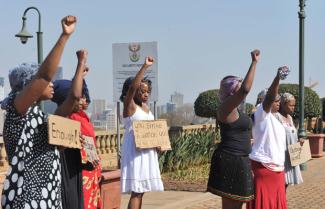 For example, a significant step was taken in 2019 at the Human Rights Council when the UN first recognized the right to bodily integrity and autonomy. Several resolution on discrimination against women and girls at the Council also recognize that backlash is linked to retrogressive lobbies, ideological views or misuse of culture or religion to oppose women's and girls' equal rights. We have also seen feminist progressions in the work of UN Special Procedures (independent officials), such as emphasizing the obligation of states to counter gender ideology narratives, calling out anti-rights actors misuse of references to "culture", and emphasizing that religious belief cannot be used as a justification for violence or discrimination.
Table of Contents
National level
Global spaces
Exercise: Let's map and celebrate our wins!
Juventina Villa Mojica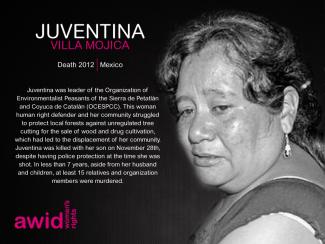 A Collective Love Print
The Circle's Conspiracy of Writers | Wazina Zondon
Also known as the Teta Research Network, The Conspiracy of Writers was founded in 2021 in the context of Kohl's weekly writing circles. The Network is a transnational group of queer and feminist writers who engage in collective writing, thinking, and world-making. 
Wazina Zondon is an Afghan raised in New York City. Her storycollecting and storytelling work centers collective memories and rites of passage in the diaspora. Currently, she is working on Faith: in Love/faith in love which (re)traces her parent's love story and family's inherited love print.
Love is a contraband in Hell,
cause love is acid
that eats away bars. 
But you, me, and tomorrow
hold hands and make vows
that struggle will multiply.
The hacksaw has two blades.
The shotgun has two barrels.
We are pregnant with freedom.
We are a conspiracy.
It is our duty to fight for freedom.
It is our duty to win.
We must love each other and support each other.
We have nothing to lose but our chains.
- "Love" by Assata Shakur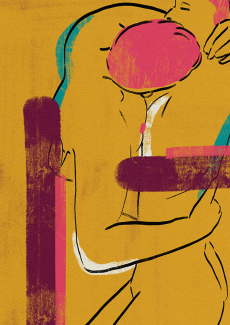 "If we can inherit trauma, can we inherit an imprint related to love?"
That is the question Wazina Zondon asks in her collective memoir Loveprint. Loveprint is a wandering, an overlap, a deviation that (re)creates, at the intersection of interviews and personal essays, our family's stories and insights on love, partnership and romance. Under Wazina's guidance, the circle's conspiracy of writers came together and attempted to reproduce this literal blueprint in the form of collective writing, where our different stories, our genders and sexual identities complement and contradict each other. With our voices overlapping, we complete each other's sentences to create a conversation, a memorial, pieces of ourselves that speak to a "we."
What are the origins of your love print?
I am a so-called "happy accident." There is much narration about this – an accidental life, one that is entirely wanted at the same time. I feel this shaped my way of loving, I don't just fall in love; I risk the slips that lead to the fall. Perhaps it made me an amor fati kind of person. 
I was told that I was an unwanted child. So I grew up to become an unwanted adult. The origins of my love print are based on being eternally unwelcomed. I am not a fruit of love or any happy feelings but rather one pain and burden. I don't have a love print – at least not in this sense.
I know for a fact that both my parents were in love at some point, but mental health is such a demon, and until one confronts their demons, there is no winning.
I will never associate "love" with my parents or normative family. Love growing up was full of violence and responsibilities I didn't sign up for or was even ready for. For the longest time, it felt like life and love were about carrying a big rock uphill. While my parents "loved each other," it was a toxic ethos of violence, jealousy, and insecurity to grow up in. I grew up wanting to crave stability, and this is what is me now. I am a risk taker, but never in my "love space."
I don't know why my mother chose to host a child (me) within her.
She does not love in this form.
My mother tells me that if I have to think about "finding" love, I should never look at her marriage as a template. My love print comes instead from my raising dogs for the last two decades (18 years to be precise). The other way around is true as well – they raised me. I understand more and more about love and its many layers in their company.
I haven't known love from a "print." In our household we don't talk about love. I had to teach myself how to love. It was hard work. Still, I fail and still, I keep on trying and I fail everyday. Perhaps failure is my love print.
My love print is the care, warmth, and understanding I give to others
surrounding me, whether a stranger, a friend, a relative, a lover. 
My love print is political – uncalculated and unthought of.
I was born under heavy shelling. 
My love print is the negative 
print of that.
Lessons learned about love
I know more about what love is not than I know about what love is. 
Love is neither anxiety nor panic.
Love is not asking permission to live or breathe. It is always about love and there is no love without freedom.
Everything you do is about using your heart except love. Love is about using your mind. 
Sometimes I fear that my love language is lost in translation.
--- There are many ways
to map the origins
of how to
how not to
love
not love
love just enough
love far too much
some love
some loss
to love
to love lost ---

I cannot stand the idea of the couple. I cannot stand the idea of living alone while aging either. I am tired of doing the chores alone, moving houses alone, paying rent and bills alone... I imagine getting a stroke alone, and it scares me. I have no plan of "partnering up." I want a world where I can get married to a friend, buy a house with a friend, not have sex.
Loving many does not corrupt a love shared between two, and whether love is romantic or not is really not that important.
When I reflect on the shoddy state of my relationships, I realize that I am in the relationship I was trained to be in. With all my "radicalness" I have not yet unlearned shitty gendered norms.
My need for stability feels "not radical" enough. I want to get out of this labeling. I want something I never had. I want to make it beautiful. I want to feel beautiful and safe – and only stability makes me feel that. Safe, sound, knowing home is neither about violence nor strife.
--- Love print – love to smell the books to see 
where they were printed
I try to think of the origin of my 
understanding and practice of love
Do we need origin, it is not the same as purity? 
No purity or origin of love. 
Why is it understanding and practice, 
and not "emotion" that comes to mind? ---

When I call my parents, I don't hang up the phone after we've said
goodbye, so I can hear the sounds of home.
What do we need to be/feel loved in death?
During my Sunni burial, I want all the women and men to come together for my burial. What's with not being able to go say goodbye to dead people from a different sex? It will be Sunni because my mother would want it to be. It will be eco-friendly; no need for the headstone. I love all burial rituals. Quran is good, but I also want music. I really like Asmahan, Um Kulthum, and The Stone Roses.
I have a Monday-Friday playlist and two different ones for the weekend: one for Saturday and one for Sunday playlist. I would like those who loved me to play the music that I used to listen to, respecting the days – with some margin of tolerance as long as they stick to the playlists.
I want to be surrounded by the one(s) who have loved me, even for a moment. And in music and embowered in fresh cut flowers. I don't want to be discovered dead; I want to pass away mid-laugh with loved ones.
I want to be remembered as someone who loved.
I don't need to feel loved in death. I need the people around me to feel I loved them, even after I die. Being loved in death is about those who are alive. So I think more about how we come together as a living and loving community in the death of those we love and live with. How we take their memories with us. How we become archives of their lives.
 --- Sometimes, you can only love people in their death. ---
I have to think back to the body being connected to a space. My family is very tiny and although we come from different places, it is as if every generation moved somewhere new. Perhaps this is the reason why death is not connected to a special place, a cemetery. It is common in our family to bury the dead without names or gravestones, or to distribute the ashes in the wind. I feel at peace with this kind of spaceless remembrance. The idea that my ashes fertilize new life gives me the sense of being loved, being remembered through recreation. My grandmother died earlier this year due to complications after the vaccination. Two hours after she died, my family sat laughing tears about her jokes, her hilarious way to tell stories. We laughed and loved, and it was as though she sat with us again. This is what would make me feel at peace – fertilizing soil, fertilizing conversations, and collective remembrance.
--- There were
Two streets that I used 
To walk
To run
To play
To stay
There were 
Five hours when the sun
Was hot
The sky was blue
The earth was green
There was 
A flower I could
Smell
Touch
Squeeze
Crush
There were
The friends I could
Caress
The food
I could 
inhale
The language
That would roll off my
lips
There might still be
Those many places
And things
And people
After me  ---
Perhaps a promise that I will be "spatially commemorated" as a plant and taken care of in turns until it becomes a tree is enough. No name, no plaques – just the plant/tree, and knowing that it will be cared for. As for my body, I want to be cremated without any rituals and my bone ashes set free in the Arabian sea.
I need my body to be treated as subversively as it's lived.
I do not want to be buried next to my family. In this tiny drawer next to all of the people who never knew me. Trapped in death as I was in life. I want to be cremated, and my ashes finally set free. 
I want to be allowed to pass, not hang in the in-between, so it is a presence, an active process, a trespassing.
I will ask of you: 
To release me and let me pass
To not let nostalgia muddy this moment because I will ask only for the normalcy of your expressions
I have snuck the gentle glimpses and hoarded away the already small and large ways you loved me in order to be sustained. I kept myself alive on these
To set a finite amount of time to grieve
To be be reminded there is no separation in the beauty of loving; it is infinite and it regenerates without the body
I want to be remembered for the love I put into the world.
I want my body to be given away, and my organs
to further fuel love in (an)other live(s).

--- The smell of jasmine ---
---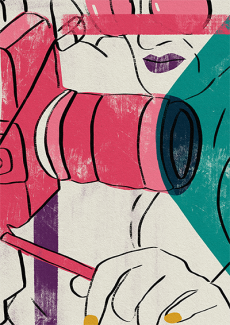 Explore Transnational Embodiments
This journal edition in partnership with Kohl: a Journal for Body and Gender Research, will explore feminist solutions, proposals and realities for transforming our current world, our bodies and our sexualities.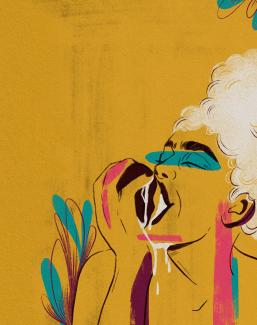 التجسيدات العابرة للحدود
نصدر النسخة هذه من المجلة بالشراكة مع «كحل: مجلة لأبحاث الجسد والجندر»، وسنستكشف عبرها الحلول والاقتراحات وأنواع الواقع النسوية لتغيير عالمنا الحالي وكذلك أجسادنا وجنسانياتنا.
Jeanne d´Arc Mihigo
إلى مجموعتي النسوية،
إلى مجموعتي النسوية، 
تحذير: عنف ضد المرأة و البنت (لانو في فرق بيناتهم) ، اعتداء.

 لطالما كنت جزء منك. لما كنت صغيرة لم أكن أعرف أن كلمة - نسوية - مقصودة لنا نحن ، الي نطمح إلى التغلب على النظام الأبوي وتفكيكه ، الي نلتمس اللجوء في أحضان الشمول والنسوية التقاطعية ، الي يعاملو الناس على قدم المساواة بغض النظر عن جنسهم ، عرقهم،  توجهاتهم الجنسية أو دينهم ، الي يحبو يكونوا أفضل ويستخدموا صلاحياتهم لرفع مستوى الآخرين.
 كان عمري 14 سنة ،لما اعتدى مدرس اللغة الفرنسية في المدرسة الإعدادية على طالبة في صفي ، رجل يبلغ طوله ستة أقدام و عمره ثلاثين عامًا. ذهبت مع الطالبة ، التي كانت صديقة طفولتي ، والعديد من الفتيات في صفي إلى مدير المدرسة للإبلاغ عنه ، وشهد الفصل بأكمله المكون من 30 طالبًا عن الاعتداء. لكن كل محاولاتنا لمحاسبته باءت بالفشل ، وغطت الإدارة قصة الفتاة ولم يُطرد مدرس الفرنسية. أنا والفتيات في صفي شعرنا بغضب كبير، لذلك فعلنا ما  كانت ستفعله كل ناشطة نسوية في مراهقته:رمينا بيض علي سيارته! وعلى الرغم من أن البيض بيتغسل بسهولة ، إلا أن الطلاء الذي استخدمناه في كتابة "خنزير" و "خماج" بقى. لن أنسى أبدًا كيف شعرنا بهداك الوقت. متحررات ، غاضبات ، سعيدات ، متماسكات ، وجبارات.منذ ذلك الحين، نفس الشعور يتكرر في كل بيئة نسوية كان لي الشرف ان احضر فيها. نشأت الناشطة النسوية في داخلي لتنضم إلى Women Deliver ، و AWID ، و Unootha ، ولتنسق ورش نسوية في الجامعة ، بل وتتعرض للاضطهاد بسبب انتمائي النسوي في سن التاسعة عشرة ، لكن هذه قصة أخرى لرسالة أخرى.
توفر لي المساحات النسوية الأمان والتمكين. تلك المساحات هن الأمهات اللواتي تمنينهم والرابط الذي كنا بحاجة إليه للتواصل مع بعضنا وتنظيم أنفسنا على الرغم من خلافاتنا ضد عدو مشترك، الباترياركية. من خلالك تعلمت أن أجمع نقاط قوتي ومهاراتي وأوجههم نحو النهوض بالآخرين وإبراز المهمشين وإعطاء صوت لمن لا صوت لهم.
أكثر ما أحبه فيك ، هو أنك تخطئين أحيانًا ، وتتجاهلين وتهمشين أيضًا ، ولديك تحيزات كما لدى كل حركة أخرى ، لكن ما يجعلك مختلفًتن هو أنكي تسعين دائمًا إلى أن تكوني أفضل. المساءلة ليست شيئًا يرعبكي وأنت حركة دائمة التغير تعكسين كيف يتغير العالم والعمل الخيري في جهود المساواة مع مرور الوقت.
أتمنى أن تنمي دائمًا ، أن تفعلي ما هو أفضل ، وأن تغضبي دائمًا ، وأن تزأري دائمًا ، وأن تحبي دائمًا ،  أن تتحدثي بلغات مختلفة ، وأن تكوني دائمًا في السلطة.
 كل حبي ونوري وغضبي لكي ،
لينة
Jyotika Singh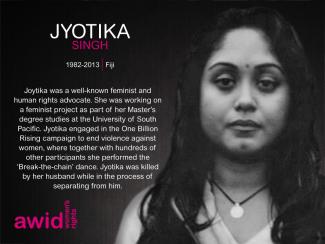 Parvin Paidar