Building Feminist Economies
Building Feminist Economies is about creating a world with clean air to breath and water to drink, with meaningful labour and care for ourselves and our communities, where we can all enjoy our economic, sexual and political autonomy.
---
In the world we live in today, the economy continues to rely on women's unpaid and undervalued care work for the profit of others. The pursuit of "growth" only expands extractivism - a model of development based on massive extraction and exploitation of natural resources that keeps destroying people and planet while concentrating wealth in the hands of global elites. Meanwhile, access to healthcare, education, a decent wage and social security is becoming a privilege to few. This economic model sits upon white supremacy, colonialism and patriarchy.
Adopting solely a "women's economic empowerment approach" is merely to integrate women deeper into this system. It may be a temporary means of survival. We need to plant the seeds to make another world possible while we tear down the walls of the existing one.
---
We believe in the ability of feminist movements to work for change with broad alliances across social movements. By amplifying feminist proposals and visions, we aim to build new paradigms of just economies.
Our approach must be interconnected and intersectional, because sexual and bodily autonomy will not be possible until each and every one of us enjoys economic rights and independence. We aim to work with those who resist and counter the global rise of the conservative right and religious fundamentalisms as no just economy is possible until we shake the foundations of the current system.
---
Our Actions
Our work challenges the system from within and exposes its fundamental injustices:
Advance feminist agendas: We counter corporate power and impunity for human rights abuses by working with allies to ensure that we put forward feminist, women's rights and gender justice perspectives in policy spaces. For example, learn more about our work on the future international legally binding instrument on "transnational corporations and other business enterprises with respect to human rights" at the United Nations Human Rights Council.

Mobilize solidarity actions: We work to strengthen the links between feminist and tax justice movements, including reclaiming the public resources lost through illicit financial flows (IFFs) to ensure social and gender justice.

Build knowledge: We provide women human rights defenders (WHRDs) with strategic information vital to challenge corporate power and extractivism. We will contribute to build the knowledge about local and global financing and investment mechanisms fuelling extractivism.

Create and amplify alternatives: We engage and mobilize our members and movements in visioning feminist economies and sharing feminist knowledges, practices and agendas for economic justice.
---
"The corporate revolution will collapse if we refuse to buy what they are selling – their ideas, their version of history, their wars, their weapons, their notion of inevitability. Another world is not only possible, she is on her way. On a quiet day, I can hear her breathing".

Arundhati Roy, War Talk
Related Content
Ali Cat Leeds
Biography
Ali is an artist and printmaker based in Portland, USA. Ali received her BFA at Pacific Northwest College of Art. Her prints mingle the literal and metaphorical to illuminate and comment upon the world around us. Relief, screen, and letterpress prints span from the carnage of clear-cuts to the beauty of peoples movements.
Ali mentored under master printer Paul Mullowney and her work has been featured in The Public Eye Magazine, Certain Days Calendar, The Siren Nation Festival, and Just Seeds. She completed an artist-residency at Proyecto Ace in Buenos Aires in 2014, and was a member of Flight 64, a member-run, nonprofit print studio, from 2015- 2018. Ali currently works as the Print Studio Technician at Pacific Northwest College of Art. 
Snippet Feminist Propositions for a Just Economy EN
AWID, the Center for Women's Global Leadership (CWGL), and the African Women's Development and Communication Network (FEMNET), offers this think piece to challenge mainstream understandings of development and put forward initial propositions for a feminist agenda for development, economic and gender justice.
Learn more about where this project comes from
---
The propositions
These propositions are intended to be just that - proposals, to be discussed, debated, added to, taken apart, adapted, adopted, and even to inspire others.
Nazima Raghubir
Biography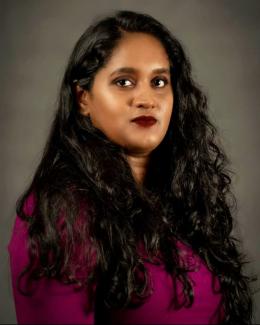 Nazima Raghubir is a print and broadcast journalist based in Guyana. She has been in the media all her working life as a writer, reporter, managing editor and news presenter with stints at Prime News, as editor of "Insight" public affairs journal, and as a stringer/correspondent for several regional and international news organisations. In 2018, she became the first woman to head the 76-year-old Guyana Press Association and in 2020 she was elected to head the Association of Caribbean Media Workers which represents national media associations across the Caribbean. Ms Raghubir has also authored and edited several print and multimedia productions including a published guide to the Parliament of Guyana, documentaries covering development and human rights issues, and numerous conference presentations. In her native Guyana, she is viewed as a reliable resource for the mentoring of new and young journalists and as a supporter of human rights.
Snippet intro text_Festival (EN)
Our festival featured 130 speakers, facilitators & artists from 43 countries, spread across 40+ sessions!
Maria Olivo
Biography
Maria is a graphic designer and visual communicator. For the last few years, Maria has been working with NGOs, and Human Rights organizations in the Dominican Republic - including Profamilia and OXFAM; Maria has a Master of Science in Communication and media Technologies, and a Bachelor's degree in Graphic Design.
Position
Digital Communications Coordinator
Snippet FEA FIGHT LIKE SOMEONE WHO CARES (EN)
São Paulo, Brazil
COZINHA OCUPAÇÃO 9 DE JULHO
FIGHT LIKE SOMEONE
WHO CARES
Are you a Northern or a Southern organization?
AWID is a global organization.
The main focus of our work is global. We also work closely with members and other women's rights organizations and allies at the local, national and regional levels so that their realities inform our work.
We have offices in Mexico and Canada
Our staff are located in 15 countries around the world
Ten of our 13 Board members are from the global South.