Building Feminist Economies
Building Feminist Economies is about creating a world with clean air to breath and water to drink, with meaningful labour and care for ourselves and our communities, where we can all enjoy our economic, sexual and political autonomy.
---
In the world we live in today, the economy continues to rely on women's unpaid and undervalued care work for the profit of others. The pursuit of "growth" only expands extractivism - a model of development based on massive extraction and exploitation of natural resources that keeps destroying people and planet while concentrating wealth in the hands of global elites. Meanwhile, access to healthcare, education, a decent wage and social security is becoming a privilege to few. This economic model sits upon white supremacy, colonialism and patriarchy.
Adopting solely a "women's economic empowerment approach" is merely to integrate women deeper into this system. It may be a temporary means of survival. We need to plant the seeds to make another world possible while we tear down the walls of the existing one.
---
We believe in the ability of feminist movements to work for change with broad alliances across social movements. By amplifying feminist proposals and visions, we aim to build new paradigms of just economies.
Our approach must be interconnected and intersectional, because sexual and bodily autonomy will not be possible until each and every one of us enjoys economic rights and independence. We aim to work with those who resist and counter the global rise of the conservative right and religious fundamentalisms as no just economy is possible until we shake the foundations of the current system.
---
Our Actions
Our work challenges the system from within and exposes its fundamental injustices:
Advance feminist agendas: We counter corporate power and impunity for human rights abuses by working with allies to ensure that we put forward feminist, women's rights and gender justice perspectives in policy spaces. For example, learn more about our work on the future international legally binding instrument on "transnational corporations and other business enterprises with respect to human rights" at the United Nations Human Rights Council.

Mobilize solidarity actions: We work to strengthen the links between feminist and tax justice movements, including reclaiming the public resources lost through illicit financial flows (IFFs) to ensure social and gender justice.

Build knowledge: We provide women human rights defenders (WHRDs) with strategic information vital to challenge corporate power and extractivism. We will contribute to build the knowledge about local and global financing and investment mechanisms fuelling extractivism.

Create and amplify alternatives: We engage and mobilize our members and movements in visioning feminist economies and sharing feminist knowledges, practices and agendas for economic justice.
---
"The corporate revolution will collapse if we refuse to buy what they are selling – their ideas, their version of history, their wars, their weapons, their notion of inevitability. Another world is not only possible, she is on her way. On a quiet day, I can hear her breathing".

Arundhati Roy, War Talk
Related Content
التعبير عن الرغبة وغيرها من الممارسات السياسيّة الأيديولوجيّة المجسَّدة | Title Snippet AR
التعبير عن الرغبة وغيرها من الممارسات السياسيّة الأيديولوجيّة المجسَّدة
مع منال التميمي وليديوي راسيكوالا ولويز ماليرب حقوق ملكيّة المدوّنة الصوتية: زهور محمود
Snippet Organising to Win_Fest (EN)
Plenary session:
Organising to Win
Margarita Salas, AWID
Nazik Abylgaziva, Labrys
Amaranta Gómez Regalado, Secretariado Internacional de Pueblos Indígenas frente al VIH/sida, la Sexualidad y los Derechos Humanos
Cindy Weisner, Grassroots Global Justice Alliance
Lucineia Freitas, Movimento Sem Terra
Disintegration | Title Snippet EN
Disintegration
Adapted from a tale by Ester Lopes
Photos by Mariam Mekiwi
Costume design and modeling by El Nemrah
Snippet Love Letters Intro (EN)
Love Letters to Feminist Movements
As you may or may not know, AWID is celebrating its 40th Anniversary in 2022 - around the themes of "Gather, Seed, and Disrupt." To honor this occasion we have invited AWID members, partners and staff to write their own "Love Letter to Feminist Movements". Together, we have sparked a constellation of feminist movements. Stay close as we forge on the journey ahead and continue to Gather, Seed, and Disrupt.
A note about Our Collection Of Love Letters:
All of these letters are written by activists who are sharing their diverse experiences in feminist movements. Some of them may include difficult or challenging content about abuse, sexual violence, conflict, exclusion and other potential triggering or upsetting pieces. While these letters are filled with love, please take care of yourself when reading the letters.
Moving Conversation | Small Snippet EN
Moving Conversation
"We were finally experiencing that other form of love – that pleasure of being together and listening to each other. For me, these kinds of chats are among the expressions of love that life had only recently allowed me to enjoy..."
Snippet FEA ASOM (EN)
Association of Afro-Descendant Women of the Northern Cauca
Black women community organizing in the Cauca Valley in Colombia can be traced back to the country's colonial past, which is marked by the racism, patriarchy, and capitalism that sustained slavery as a means to exploit the region's rich soils. These organizers are the heroines of a broad movement for black autonomy - one that fights for the sustainable use of the region's forests and natural resources as vital to their culture and livelihood.
For 25 years, the Association of Afro-Descendant Women of the Northern Cauca (Asociación de Mujeres Afrodescendientes del Norte del Cauca, ASOM) has been dedicated to bringing power to Afro-Colombian women's organizing in northern Cauca.
They became established in 1997 as a response to ongoing human rights violations, the absence of public policies, inadequate management of natural resources, and the lack of opportunities for women in the territory.
They have forged the struggle to secure ethnic-territorial rights, to end violence against women, and gain recognition of women's roles change-making peace-building in Colombia.
Communicating Desire | Small Snippet AR
التعبير عن الرغبة وغ
وغيرها من الممارسات السياسيّة الأيديولوجيّة المجسَّدة
المضيفة: نحن نميل إلى الاعتقاد أنّ التعبير عن الرغبة يقتصر على العلاقة الحميمة داخل غرفة النوم وعلى علاقاتنا الشخصيّة. ولكن هل يمكننا أيضًا اعتبار هذا النوع من التعبير كبُنية، أو ممارسة أيديولوجيّة توجّه عملنا، وما نحن عليه، وكيف سنكون في هذا العالم؟
Snippet FEA Clemencia Video (EN)
#1 - Sexting like a feminist Tweets Snippet AR
مفضّلتي: لا مزاح في حضرة القوى العظمى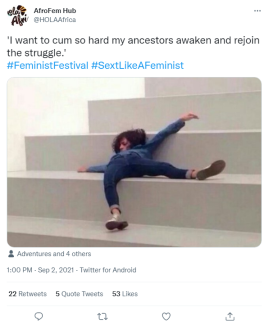 عزمي الوصول الى الذروة الجنسية، كفيلة بإيقاظ الأجداد من مثواهم الأخير وإعادتهم الى صفوف الثورة التقدميّة
Snippet FEA Agroecology And Food (EN)
| | |
| --- | --- |
| AGROECOLOGY AND FOOD SOVEREIGNTY AS RESISTANCE | Today, large-scale industrial food production uses single-crop plantations, genetically modified organisms and other pesticides that destroy the land and knowledge of local communities. |
Agroecology is a resistance to corporate-driven agriculture. It prioritizes smaller scale agriculture, multiple crops and diversified food production, and the centering of local knowledge and practices. Agroecology goes hand-in-hand with demands for food sovereignty, or the "right of peoples to healthy and culturally appropriate food produced through ecologically sound and sustainable methods, and their right to define their own food and agriculture systems"(Via Campesina, Declaration of Nyéléni).
The role of women, indigenous and rural communities and people of color from the Global South is absolutely essential when it comes to food systems. Feminist agroecologists are working to dismantle oppressive gender roles and systems of patriarchy embedded within food production. As shown by the heroines of NSS, they are generating a liberatory agroecology by strengthening community resilience, empowering women peasants and farmers, and preserving local traditions, territories, and knowledge of food-producing communities.
Snippet FEA trans and travesti people in Argentina (EN)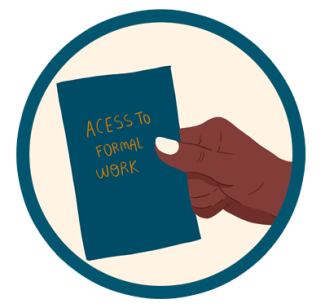 Only 18% of trans and travesti people in Argentina have access to formal work.
Snippet FEA Map of Georgia (EN)
AWID IN 2014: Strengthening Women's Rights Organizing Around the World
Snippet FEA Unfair Policies (EN)
UNFAIR POLICIES
Cindy Clark
Position
Co-Executive Director
Snippet FEA Union Otras Photo 4 (EN)